Obituaries for August 2009
1 August 2009
1,368 views
No Comment
Marie Eldridge
Marie D. Eldridge, 83, of Chapel Hill, North Carolina, died June 13 at her home.
Eldridge was born in Baltimore, Maryland, and earned her undergraduate degree from Notre Dame of Maryland and her graduate degree in biostatistics from The Johns Hopkins University.
She had a long and successful career in Washington, DC, as an executive at the U.S. Postal Service and the departments of Transportation, Education, and Labor. In 1982, she received the Presidential Rank Award, Meritorious Executive, for service as the administrator of the National Center for Education Statistics.
After moving to North Carolina in 1983, Eldridge worked as a director at the Research Triangle Institute until her retirement in 1988.
She was a member of the Washington Statistical Society—serving as its president from 1976–1977—a Fellow of the American Statistical Association, and an active member and officer of the American Association of University Women.
John Koop
John Clement Koop, 90, died on June 9, 2009. He was born on March 6, 1919, in Myitkyina, British Burma, and later educated at St. Peters High School in Mandalay.
When World War II broke out, Koop had just finished his university education, graduating with honors with a degree in mathematics. During the war, he worked in the Japanese public health administration as a chemist and, in 1943, married Elsie Ure.
After the war, Koop applied for a state scholarship and went to University College, London, to study statistics. In 1955, he came to North Carolina State University and earned his PhD in statistics. He became a U.S. citizen in 1965.
From 1966 to 1971, Koop lived in Canada, where he worked for the Dominion Bureau of Statistics. The American Statistical Association elected him a Fellow in 1969, and the International Statistical Institute elected him a member in 1974. In 1971, he and his family returned to Raleigh, North Carolina, where he worked at Research Triangle Institute until he retired in 1981.
Elsa Servy
Elsa Servy, a statistics scholar from Buenos Aires, Argentina, died April 20, 2009.
Growing up in Rosario, Argentina, Servy joined the newly created Career in Statistics program in the School of Economics at the University of Litoral. Before her graduation in 1952, she became an assistant to the academic staff. From there, she was promoted to different positions until 1956. Eventually, she became professor of analysis of variance and design of experiments, a field she was devoted to as a teacher and researcher throughout her academic career.
In 1960, Servy moved to the Instituto Nacional de Tecnología Agropecuaria (INTA), where she worked in research until 1974, when she became director of the Department of Statistics. During her time at INTA, she completed her academic studies. In 1966, she earned her MSc in experimental statistics and, in 1972, she earned a PhD from North Carolina State University, Raleigh.
In 1976, Servy left Argentina to join the staff of the Empresa Brasileira de Pesquiza Agropecuaria, where she became chief of their statistical division. In 1984, she returned to the University of Rosario (formerly the University of Litoral) as director for the School of Statistics. She remained there until her death.
In 1999, Servy encouraged the creation of a graduate program (MSc level) at the University of Rosario, which is now well-established. She was often asked to be a visiting professor and member of academic juries and conferences. She also was appointed director of the Sociedad Argentina de Estadística from 1986–1988.
Héctor Trabuchi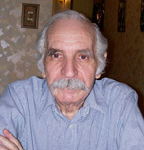 Héctor Trabuchi passed away on February 21, 2009, in Buenos Aires, Argentina. Born in Rosario, Santa Fe, Argentina, on November 26, 1937, he was a statistician who graduated in 1966 from the National University of Litoral (now National University of Rosario). He married his former classmate and current president of the Inter-American Statistical Institute, Clyde Charre, in 1967.
Trabuchi, who developed his professional career in Buenos Aires working for government agencies, retired in 2003. He made important contributions to the recognition of legal status for the Argentine Statistical Association and the Association of Graduates in Statistics.
Condolence messages can be sent to Charre at cyhtrabu@ciudad.com.ar.
This is a listing of ASA members who have recently passed away. For a complete listing of the most recent member's obituaries, click here.