ASA Community: A New Benefit of Membership
1 October 2009
804 views
No Comment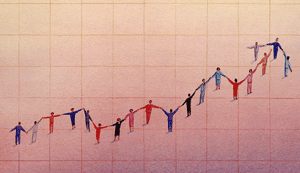 The ASA is pleased to announce our newest benefit of membership, the ASA Community. We know our members are our foundation, and we hope the ASA Community will further foster member engagement and interaction within the ASA. The ASA Community provides an online setting for like-minded statisticians to connect with their peers by offering the following features:
Networking
Set up your personal member profile and connect with ASA colleagues and peers quickly and easily.
ASAGroups
The new online home for our ASA committees, sections, and chapters, ASAGroups allows group members to exchange information in real time based on individual communication preferences. Information is automatically accessible and archived for the group. Ad hoc groups created by members around a common interest are encouraged.
Resource Library
The Resource Library is where members may share, comment on, rate, and tag documents. By using the Resource Library, members expand the ASA knowledge base.
Glossary
Collaborate to create and build industry definitions. Rate definitions and add comments to build definitions and terms so they can be used by other members.
Calendar
Access calendars for specific groups and the master calendar for all ASA Community events.
Begin connecting today at the ASA Community.