ASA Seeks Nominations for 2010 Deming Lecturer
1 October 2009
1,235 views
No Comment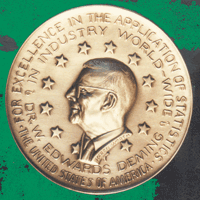 The Deming Lecturer Award was established in 1995 to honor the accomplishments of W. Edwards Deming and the awardee, as well as to enhance the awareness of the scope and importance of Deming's contributions among the statistical community. The Deming Lectureship Committee seeks nominees who have made significant contributions in fields related to those in which Deming devoted his career—survey sampling, statistics in the transportation industry, quality management, and quality improvement—or who have made significant contributions through effective promotion of statistics and statistical thinking in business and industry.
The awardee will give the Deming Lecture during the 2010 Joint Statistical Meetings in Vancouver, British Columbia, Canada, and receive a $1,000 honorarium and award plaque.
The lecture should be presented in the spirit of Deming's views about his statistical practice. He wrote in Code of Professional Conduct, "I aim to engage only in work that offers opportunity to create new statistical methods, or to use existing methods to help other scientists and professional men to improve their research; or to acquire new knowledge through planned research about materials and about man; or to improve efficiency, uniformity, quality service, and performance of product; or to achieve smoother operation and more effective administration and management in industry and government."
Nominations are due by December 31, 2009. Click here for details and a nomination form. Questions may be addressed to A. Blanton Godfrey, chair of the Deming Lectureship Committee, at abgodre@ncsu.edu.