Two Named 'Significant' Winners
1 October 2009
694 views
No Comment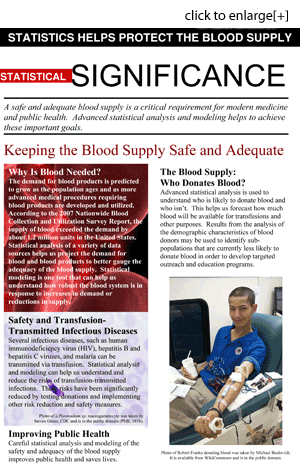 Richard A. Forshee and Mark O. Walderhaug, both of the FDA, were recently named winners of the "Statistical Significance" poster competition, a unique contest conducted by the ASA Scientific and Public Affairs Advisory Committee during this year's Joint Statistical Meetings in Washington, DC. The winners received award certificates and a $200 prize for their "Statistical Significance" entry, titled "Statistics Helps Protect the Blood Supply."
The competition called for poster session authors to supplement their posters with a "Statistical Significance" piece. "Statistical Significance" is a one-page document—intended for policymakers and laymen—that illustrates how statistical applications affect decisionmaking in everyday life and improve the quality of life in our society.
This year's competition featured 14 contestants from academic, private, and government sectors. The "Statistical Significance" pieces illustrated how statistical analyses affect decisions on topics such as airline flight schedules, food safety, resource allocation to social programs, and predicting asteroid impacts on Earth.
Click here to view the "Statistical Significance" series.