Staff Spotlight
1 October 2009
1,213 views
No Comment
Fay Gallagher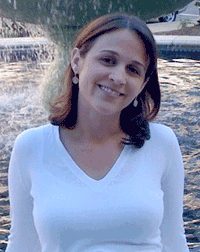 Hello, my name is Fay Gallagher, and I am the newest ASA meetings planner. Since joining the staff in June, I think it's fair to say my first few months have been a whirlwind. Being part of the meetings department, I was immediately immersed in the inner workings of and preparations for the Joint Statistical Meetings this past August.
Part of my JSM responsibilities included managing logistics for the meetings scheduled at the Renaissance DC Hotel, the headquarters hotel for this year's conference. Whether it was a morning committee meeting or one of the many mixers, my job was to be in a million places at once (as is the job of most meeting planners). While some wouldn't enjoy this kind of responsibility, I wouldn't have it any other way. I love the fast pace of meetings and seeing the enjoyment on all the attendees' faces as they experience what has taken months, if not years, to plan. I thoroughly enjoyed being part of this year's conference, and am excited for JSM 2010 in Vancouver.
When I'm not working on future JSMs, you can find me assisting with the planning and logistics for the FDA/Industry Statistics Workshop, as well as managing the 2010 ASA Conference on Radiation and Health. I am looking forward to both of these meetings, as they will give me a chance to learn more about different parts of the ASA and provide greater interaction with our wonderful members.
To tell you a little bit about myself, I am a self-proclaimed "Jersey Girl from the Midwest." Growing up, I lived in Chicago and Nebraska before moving to New Jersey when I was 12. I grew to love New Jersey for its beautiful shore, access to New York City and Philadelphia, and great pizzerias and bagel shops, which seem to be never-ending. You will never catch me complaining though, as pizza and bagels are probably two of my favorite foods, and I always make sure to get my fill when I head back there.
While my parents and younger brother still reside in New Jersey (I'm the third of four children), most of my extended family lives in the Chicago area. Chicago is one of my favorite cities, so I try to go there as often as possible to visit family and experience all the city has to offer. My next trip is scheduled to take place in just a couple of weeks; I'm going to celebrate my grandfather's 90th birthday. As I grow older, it seems increasingly difficult to get all of my family together, so I'm looking forward to seeing everyone and celebrating this wonderful occasion.
I attended The Pennsylvania State University (Go Nittany Lions!) before moving to the Washington, DC, area in 2006. I majored in public relations, with a minor in sociology and a concentration in sports journalism. While these are officially listed on my diploma, my unofficial major (like most Penn Staters) was football. Even though I never really got into sports besides the occasional baseball or football game, I absolutely fell in love with college football. There's something about the atmosphere at Beaver Stadium and the excitement of the crowd at each game that sets it apart from other sports. I consider myself incredibly lucky to have attended a school where I was able to participate in the true college football experience.
Prior to joining the ASA, I worked at the National Association of College Admission Counseling (NACAC) as an event manager in their National College Fairs Department. I traveled all over the country, planning large-scale college fairs that saw upwards of 25,000 students. Being able to help students interact with colleges when they may not have afforded college visits otherwise was an extremely rewarding experience, and I look forward to applying the skills I learned at NACAC to my current position at the ASA.
I enjoyed meeting many of you at JSM, and I anticipate meeting many more of you at the ASA's other meetings throughout the year. If you have any questions or there is any way in which I can assist you, please feel free to contact me at fay@amstat.org.