Member Spotlight E. J. Reedy
1 January 2010
1,082 views
No Comment
E. J. Reedy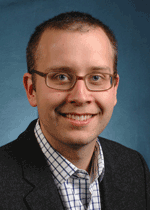 When I started working at the Kauffman Foundation in 2003, I had no idea I would come to consider myself a member of the statistical community. I was hired as a research assistant for the new vice president for research, Robert Litan, who was coming to Kauffman from the Brookings Institution. Litan was brought on to lead a major expansion of research and policy funding on entrepreneurship, the Kauffman Foundation's flagship topical focus. To improve research, a change in the data infrastructure was needed, as well.
Beginning in 2003, we increased our spending significantly on data and broadened our engagement with the national and international statistical communities on how best to measure entrepreneurship in a consistent manner. Early grants included a major study of the statistical infrastructure in the United States for measuring business dynamics by the National Academies and a new project at the Organisation for Economic Co-operation and Development (OECD) to look at what indicators of entrepreneurship might be available across countries from national statistical offices.
As a complement to that work, Litan also set about creating new research data sets on entrepreneurship. Historically, Kauffman had limited involvement in this area by funding the University of Michigan on a project called the Panel Study on Entrepreneurial Dynamics (PSED), but not to the degree it would become involved in the coming years. Following the advice of a small group of scholars, we implemented what would become the Kauffman Firm Survey (KFS). Little did I realize then that I would still be working on that project almost seven years later and that the KFS would become the largest and longest longitudinal survey on new businesses in the world.
The KFS follows a cohort of 4,928 firms that began operations in 2004. This cohort is tracked annually and queried on the background of the founders; the sources and amounts of financing; firm strategies and innovations; and outcomes such as sales, profits, and survival. The KFS is in its fifth collection period, with eight periods planned. When Litan assigned me to supervise the development of the KFS, I found two new areas of passion—survey research design and data dissemination.
In 2006, I took over supervision of data projects in an attempt to help Kauffman supervise investments in its marquee programs, leverage smaller projects, and direct scholars to the most appropriate data available for their lines of research.
Kauffman had two goals in funding panel surveys: data creation to advance understanding and to encourage broader academic interest. We naïvely believed academics needed only data access, and if we supported data, any data would be adopted swiftly. How wrong we were.
Public-use data products are not always attractive to an academic audience, in which disciplinary norms promote proprietary data use in the publication and tenure process. Additionally, survey research firms give little emphasis to dissemination, leaving the process to academic principal investigators with only slight systematic knowledge accumulated.
So, here my second area of passion developed in helping to get the right data to the right people so it would actually be used in research and knowledge would be advanced.
To do so, I went about building a broader set of activities designed to support data work on entrepreneurship and innovation. The Kauffman Symposiums on Entrepreneurship and Innovation Data were conceptualized as "data trade shows," providing a venue for potential users of new data and producers of new data to connect. In its inaugural meeting, 130 people attended and 38 data sets were discussed. Reducing barriers for academics to 'test drive' data sets proved popular and efficient. It is a model we continue to build upon with a planned 2010 data symposium.
Read my blog—Data Maven. I was given the nickname "Data Maven" by a colleague and, while it seems a little silly, it does seem to match the role I play. By tracking new developments in entrepreneurship and innovation data, reducing barriers to systematic learning across projects, and encouraging the quick adoption of new data in research, we can leverage investments. I am lucky enough to work with a talented group of statistical professionals and academics who are trying to advance work in this area. I view my role as looking for the holes in the systems or significant opportunities to make sustained improvements in our statistical infrastructure and to understand these important topics.
I went to the University of Kansas for my undergraduate studies, where I majored in mathematics, economics, and American studies. I studied under Bozenna Pasik-Duncan in mathematics and ended up taking several graduate statistics courses. After graduating, I took a position at the Federal Reserve Bank of Kansas City in the management program and worked in a variety of departments before taking the job at Kauffman.
My real passion has always been community development. In college, that came through running KU's student-led volunteer programs at the Center for Community Outreach. Now, I view myself as one of the proud people working to build a better statistical community—a community that lies at the base of so much of the work being done to better understand our complex economies and how we can improve upon the system.