ASA Announces Poster, Project Competition Winners
1 August 2011
9,496 views
2 Comments
The American Statistical Association is pleased to announce the winners of the 2011 Poster Competition and Project Competition. First-place winners received $200, a plaque, a plaque for their school, and grade-appropriate graphing calculators provided by Texas Instruments. Second-place winners received $100 and a plaque; third-place winners received $50 and a plaque; and honorable mentions received certificates.
The poster and project competitions are directed by the ASA/NCTM Joint Committee on Curriculum in Statistics and Probability, with Linda Quinn of Cleveland State University serving as the poster competition leader and Jamis Perrett of Texas A&M University serving as the project competition leader. K–12 posters are due every year on April 1. Projects (written reports) for grades 4–12 are due every year on June 9. Visit the competitions web page for information—including previous winners, entry forms, instructional webinars, and a rubric of how the posters and projects are judged.
2011 National Poster Competition Winners
Grades K–3
First Place
Theo Ryden, Amelia VanConant, and Olivia Waite
Toilet Paper Habits?
Holland Public Schools Gifted & Talented Program
Holland, Michigan
Second Place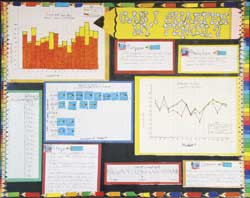 Erica Simon, Lauren Maransky, Hannah Redding-Gurczynski, and Madeline Ruch
Can I Sharpen My Pencil?
Highland Elementary
Abington, Pennsylvania
Third Place
Kevin Luke and Devin Vollono
What Drink Has the Most Sugar?
Stepney Elementary School
Monroe, Connecticut
Honorable Mention
Carson McCue
Groundhog Weather
The Alexander Dawson School at Rainbow Mountain
Las Vegas, Nevada
Honorable Mention
Caden Fujii
Missing Teeth
Roslyn Elementary School
Roslyn, Pennsylvania
Grades 4–6
First Place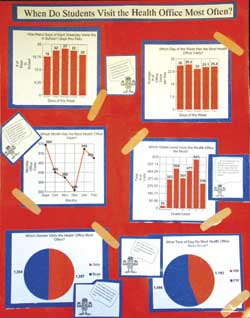 Samantha Carpenter and Emily Marcum
When Do Students Visit the Health Office Most Often?
Estes McDoniel Elementary School
Henderson, Nevada
Second Place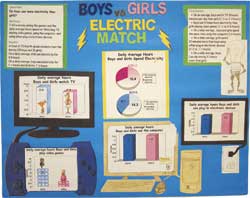 Julian Perez
Boys vs. Girls Electric Match
Rydal Elementary
Huntingdon Valley, Pennsylvania
Third Place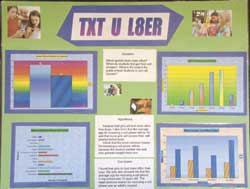 Sam Palmer
Txt U L8er
Ben Franklin Elementary
Indiana, Pennsylvania
Honorable Mention
Scott Hadley
Do Batteries Grow on Trees?
Central Woodlands
Ada, Michigan
Honorable Mention
Kathryn Crummitt, Hailee Emge, Trinity Pillar, and Rebecca Warfield
Whirl It, Arch It, Loop It
Arbutus Elementary School
Arbutus, Maryland
Grades 7–9
First Place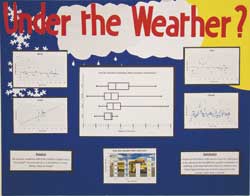 Doug Bender
Under the Weather?
Saltsburg Middle School
Saltsburg, Pennsylvania
Second Place
Ryan Hall
A Study of U.S. Greenhouse Gas Emissions
Cuyahoga Valley Christian Academy
Cuyahoga Falls, Ohio
Third Place (Tie)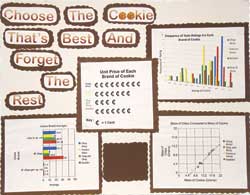 Rose Lisi, Kyri Marinos, Jimmy McEwan, and Kristina Vetter
Choose the Cookie That's the Best and Forget the Rest!
Madison Middle School
Trumbull, Connecticut
Third Place (Tie)
Josiah DeVizia
What Drives Fuel Prices?
Delaware Valley High School
Milford, Pennsylvania
Honorable Mention
Austin Chiu
Plants + Sugar = ?
Hyde Park Middle School
Las Vegas, Nevada
Grades 10–12
First Place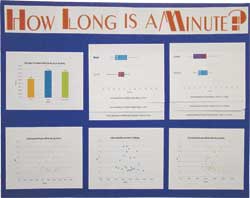 Alison Roudebush and Allison Koscianski
How Long Is a Minute?
St. Joseph Academy
Cleveland, Ohio
Second Place
Alex Aleman, Melissa Buesch, Amber Dudley, and Olivia Sloan
Obesity: The Plague of the 21st Century – Are Teens at Risk?
Cuyahoga Valley Christian Academy
Cuyahoga Falls, Ohio
Third Place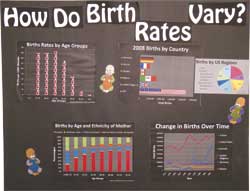 Allyson Carpenter, Kemet Omari, and Tiana Williams
How Do Birth Rates Vary?
Cuyahoga Valley Christian Academy
Cuyahoga Falls, Ohio
Honorable Mention
Stephanie Liu
How Are Airborne Pollutants Affecting the Health of Americans?
Phillips Academy
Andover, Massachusetts
2011 National Poster Competition Judges
Linda Quinn of Cleveland State University directs the national poster competition. The 2011 competition
judging was held in Ohio and included the following judges:
Chandana Reddy, Cleveland Clinic
Steven Lewis, MetroHealth Medical Center at CWRU
Steve Richardson, S.A. Richardson & Associates
Tom Short, John Carroll University
Jerry Moreno, John Carroll University
Liang Li, Cleveland Clinic
Linda Quinn, Cleveland State University
2011 Regional Poster Competition Leaders
Connecticut Chapter Statistical Poster Competition
Marianne E. Messina
Associate Director, Bristol-Myers Squibb, Global Biometric Sciences Oncology
Michigan Statistics Poster Competition
Dan Frobish
Department of Statistics, Grand Valley State University
Nevada K–12 Statistics Poster Competition
David Thiel
K–12 Mathematics Coordinator, Clark County School District
Ohio Statistics Poster Competition
Jerry Moreno
John Carroll University
Pennsylvania Statistics Poster Competition
Pete Skoner
Saint Francis University Science Outreach Center
Washington Statistical Society Poster Competition
Jill Montaquila
Westat and JPSM
Other Region/ASA National Poster Competition
Leader: Linda Quinn, Cleveland State University
Contact: Rebecca Nichols, ASA K–16
Education Manager
Students outside the regional competition areas submit their posters directly to the ASA office, which are then separately judged by the Washington Statistical Society as part of the "Other" region. The best posters from each region are sent to the national judging. Information about regional poster competitions and winners is available on the individual regional poster competition websites.
2011 National Project Competition Judges
Jamis Perrett (Texas A&M University) directed the project competition with the following judges:
Jocelyne L Arnott
Patricia Bahnsen
Yiannis C. Bassiakos
Kathy Bean
Chris Bearden
Jennifer Bryan
Russ Campbell
Beth Chance
Annie-Sophie Charest
Steven Dafilou
Rick Davis
Steve Earth
Kay Endriss
Liz Flow-Delwiche
Lisa Ganio
Kathryn Hall
Katherine Harris
Elaine Hays
Linda Hynan
Joel Jacob
John H. Kalbfleisch
Christina Kendrick
Nathan Kidwell
Jessica Kohlschmidt
Lee Kucera
Betsy Kumm
Jennifer Langdon
Christina Lepi
Shinemin Lin
John F. Mahoney
Christopher J. Malone
Anthony Martellotta
Vicki McMillian
Jane Monaco
John Myers
Leigh Nataro
Scott Nestler
Joseph Nolan
Thomas Parker
Kumer Pial Das
Tom Robinson
Jose Almer T. Sanqui
Lisa Schell
Susan J. Simmons
Sean Simpson
Marla Smith
Frank Soler
Daren Starnes
Lance Suzuki
Scott Travis
Doug Tyson
Rieken Venema
Andrew Walter
Ruth Wunderlich
Donna Young
2011 National Project Competition Winners
Each year, the statistical project competition attracts a variety of submissions in which students from grades K–12 conduct creative studies. This year's entries included studies regarding diaper absorbency, submarine sandwich preferences, subliminal messages, and comparisons across genders. The submission deadline for the project competition was delayed until June 9 this year to enable participation from high-school students who may have been preparing for the AP Statistics exam administered on May 11. The new deadline also made it possible for teachers who might otherwise be busy at the AP reading to assist with the competition judging. The statistical project competition was especially useful for these students because it provided them with opportunities to apply all the statistical skills they had acquired throughout the school year to solve real-world problems of interest to them. Motivation to participate in the competition included monetary awards, plaques, and new Texas Instruments calculators.
Grades 4-6
First Place
Isaac Round
The NBA Draft
Home Project
Overland Park, Kansas
Second Place
Suh Young H. Choi
Any Favor in the Flavor?
Valley View Intermediate School
Jonesboro, Arkansas
Third Place
Harish Chandrasekaran, Shankar Sundaresan, and Rohan Suri
The Relationship Between Creativity and a Sense of Responsibility
Oak Hill Elementary School, Greenbriar West Elementary School, and Hunters Woods Elementary School
Oak Hill, Virginia
Grades 7-9
First Place
Andrew Blonsky
Algae the Carbon Sponge: Optimum Temperature for Chlorella Photosynthesis
Price Creek Independent School
Chapel Hill, North Carolina
Second Place
Hanel Baveja
Are Male and Female Facebook Profiles Different?
Huron High School
Ann Arbor, Michigan
Third Place
Priya Chandrasekaran, Geetika Lal, and Mallika Suri
The Relationship Between Teens' Time-Spending Patterns and Their Personality Traits
Rachel Carson Middle School
Herndon, Virginia
Grades 10-12
First Place
Jeremiah J. Keenan
Coca-Cola's Secret Formula – Internationally Variable?
Home school
Kowloon, Hong Kong
Second Place
Kelsey Maxwell, Tara Dearlove, and Kelli Dryer
Battle of the Genders: Dance Edition
Grand Blanc High School
Grand Blanc, Michigan
Third Place
Matthew Fligiel and Chen Chen
A Little Academic Into Men's Shirts
Greenhills School
Ann Arbor, Michigan
Honorable Mention
Kyle Hanson
Hypothesis Testing for Homoscedasticity of the Coefficient of Restitution of Table Tennis Balls
Lathrop High School
Fairbanks, Alaska
Honorable Mention
Ioana Soaita and Lulu Zhong
Facebook Requests From Strangers: Does Acceptance Differ by Gender of Requestor?
East Lyme High School
East Lyme, Connecticut
Honorable Mention
Ian Donastorg
Ye Old Windbags
Grand Blanc High School
Grand Blanc, Michigan
Get Involved
For information about how to start a regional poster competition or mentor students in your area, see the article appearing in the July issue of Amstat News. You can download a flyer about the ASA poster and project competitions and other K–12 statistics education programs and resources to share with your local schools at the bottom of the ASA education website. For additional information or questions regarding how to get involved, contact ASA K–16 Education Manager Rebecca Nichols at rebecca@amstat.org.