ASA Announces Statistics Poster and Project Competition Winners
1 August 2012
6,834 views
No Comment
The American Statistical Association is pleased to announce the winners of the 2012 Poster Competition and Project Competition. First-place winners received $200, a plaque for themselves and their school, and grade-appropriate graphing calculators for themselves and their advisers provided by Texas Instruments. Second-place winners received $100 and a plaque; third-place winners received $50 and a plaque; and honorable mentions received certificates.
The poster and project competitions are directed by the ASA/NCTM Joint Committee on Curriculum in Statistics and Probability, with Linda Quinn of Cleveland State University serving as the poster competition leader and Jamis Perrett of Monsanto Company serving as the project competition leader. K–12 posters are due every year on April 1. Projects (written reports) for grades 7–12 are due every year on June 1. Visit the competitions web page for information about previous winners and how to enter. Also access instructional webinars and a rubric of how the posters and projects are judged there.
2012 National Poster Competition Winners
Grades K–3
First Place
Brandon Samuels
"Having a Ball with Statistics"
Manatee Bay Elementary
Weston, FL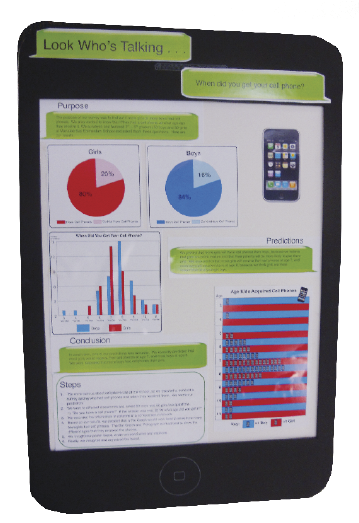 Second Place
Adva Oshri and Sophia Zapata
"Look Who's Talking"
Manatee Bay Elementary
Weston, FL
Third Place (tie)
Joyce Huang
"Is the Three-Sided Die Fair?"
Worthington Park Elementary
Westerville, OH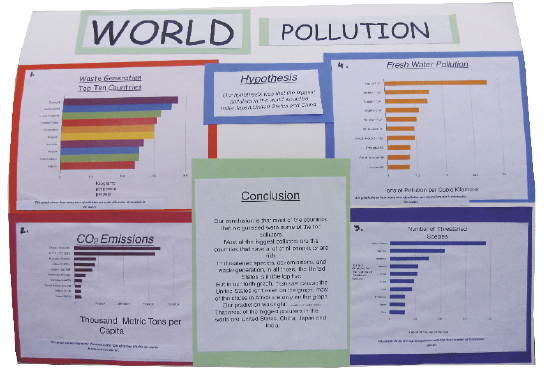 Third Place (tie)
Oren Aviad, Peter Berganross, Iesa Khanji, Kabir Khwaja, Victoria McNelis, Arnav Paliwal, Ava Pfannenbecker, and Cole Wissink
"World Pollution"
Beecher Road School
Woodbridge, CT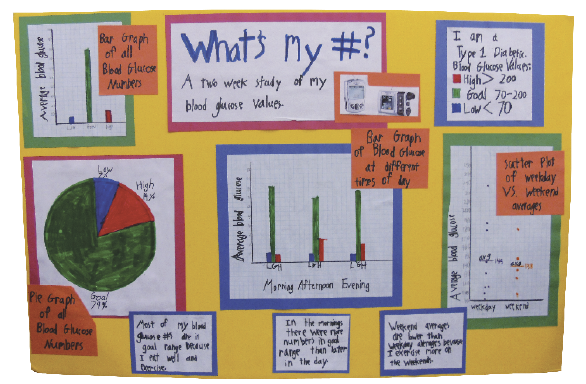 Honorable Mention
Joseph McClelland
"What's My Number? Blood Glucose Values"
Ada Vista Elementary
Ada, MI
Honorable Mention
Brooke Shirley, Anthony Aronson, Gino Bartolini, and Madison Prenni
"Oreo Obsession"
Saltsburg Elementary School
Saltsburg, PA

Grades 4–6
First Place
Andrew Wyatt
"Show Me Your Colors"
Lied Middle School
Las Vegas, NV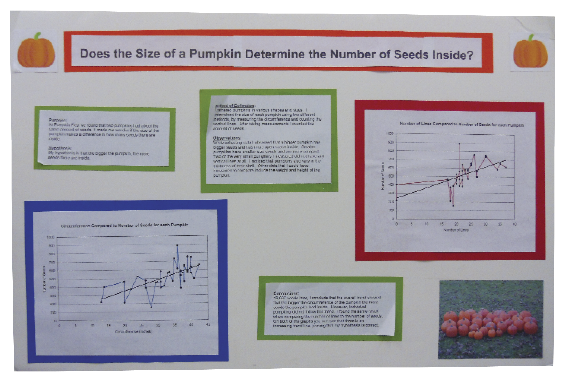 Second Place (tie)
Carter Gates
"Does the Size of a Pumpkin Determine the Number of Seeds Inside?"
Rydal Elementary
Huntingdon Valley, PA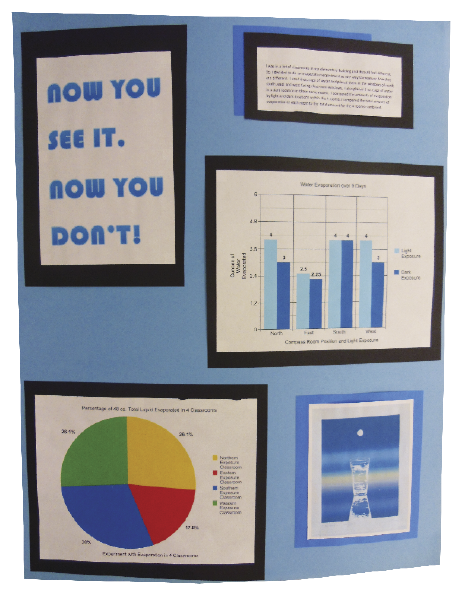 Second Place (tie)
Jonathon Price
"Now You See It, Now You Don't"
Edgewood Elementary
Fruitport, MI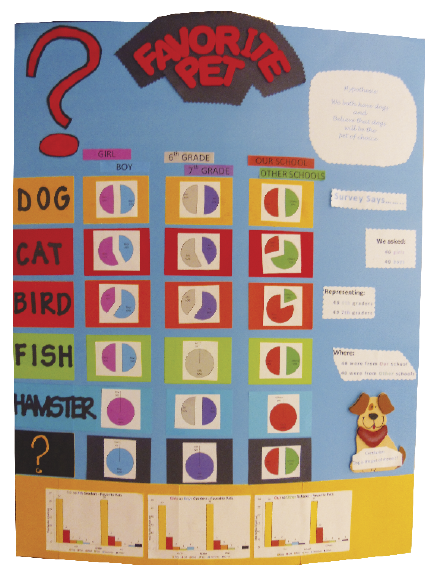 Honorable Mention
Tyler Pearson and Wyatt Hinkson
"Favorite Pet?"
Grace Christian School
Bowie, MD
Honorable Mention
Kayla Scott
"State Rankings vs. Private Schools in the
United States"
Grace Christian School
Bowie, MD
Grades 7–9
First Place
Benjamin Townson
"Which Storm Caused the Worst Power Outages in Connecticut?"
Jockey Hollow Middle School
Monroe, CT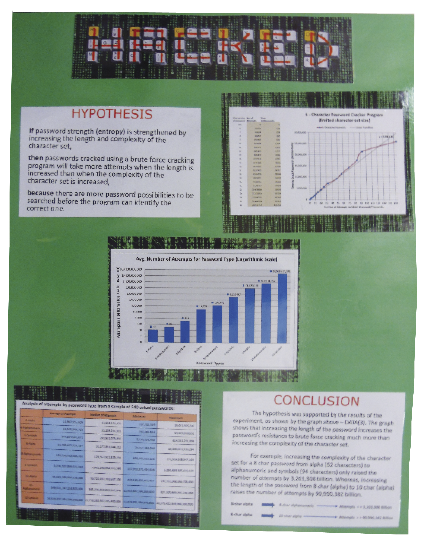 Second Place
Jahnik Kurukulasuriya
"Hacked"
Campus School of Carlow University
Pittsburg, PA
Third Place
Sarah Schultheis, Taylor Carroll, and Lizzy St. Clair
"Sizzlin' Relaxin' Summer Getaway"
Palmyra Area Middle School
Palmyra, PA
Honorable Mention
Peter O'Neill
"Do Gender and Exercise Affect Self-Esteem?"
Clarkstown High School South
New City, NY
Grades 10–12
First Place
Julia Benyo, Kacie Moore, Erika Shores, Laura Sierko
"Dangerous Debt: What Is the Perceived Impact of Credit Card Debt in the United States?"
Cuyahoga Valley Christian Academy
Cuyahoga Falls, OH
Second Place
Sonya Tran and Bridget Kilbane
"Which Social Networking Site Is More Popular? Facebook vs. Twitter"
St. Joseph Academy
Cleveland, OH
Third Place
Layla Barati
"Do Teens Really Care About Their Community?"
East Career and Technical Academy
Las Vegas, NV
Honorable Mention
Yan Ting Cheung and Erin Bator
"Which Is Healthier? Fruits, Fruit Snacks, or Candy Bars?"
St. Joseph Academy
Cleveland, OH
2012 National Project Competition Winners
2012 National Project Competition Judges
Jamis Perrett (Monsanto Company) directed the project competition with the following judges:
Kenneth Marr, Cisco Systems
Shywanda R. Moore, Shelton State Community College
Kay Endriss, Career Center High School
Kyle Greene, Convent of the Sacred Heart
Christopher J. Malone, Winona State University
Dori Peterson, Stevens High School and Northwest Vista Community College
Joel Sanquijat, Appalachian State University
John F. Mahoney, Benjamin Banneker Academic High School
Pamela Lindemer, Ionia Public Schools
Lynn Ibarra, Hempstead High School
Jennifer Street, Trinity Episcopal School
Joel Jacob, Phillips Academy Andover
Nathan Kidwell, Holly High School
Robert Sims, George Mason University
Christine Curtis, Hillsborough Community College
Joe Nolan, Northern Kentucky University
Ken Constantine, Taylor University
Janelle Watkins, Capella University
Mark Harbison, Sacramento City College
Yixia Lu, South Suburban College
Ben Wehrung, Jacksonville University
Debbie Kohler, Kennesaw State University
Norma Bisulca, University of Maine at Augusta
Bogdan Strimbu, Louisiana Tech University
Michael Lloyd, Henderson State University
Ruth Wunderlich, Austin Community College
Desiree LeBoeuf-Davis, Louisiana Tech University
Carla L. Hill, Marist College
Deb Schleusener, EMB Statistical Consulting
Michael Legacy, Greenhill School
Sean Simpson, Westchester Community College
Elizabeth M. Flow-Delwiche, Maryland Department of Education
Laura Ziegler, University of Minnesota
Jennifer Langdon, Wayne State College
Bethany A. Bell, University of South Carolina
Ghada Khoury, Lansing Community College
Monika Keindl, Northern Arizona University
Felicia Lewis, Edward Waters College
Ann M. Brearley, University of Minnesota
Susan Archer, Duval County Public Schools
Scott Travis, Lone Star College
Shinemin Lin, Savannah State University
Linda Wohlever, Hathaway Brown School
Kevin Bruker, Eureka College
Mohammed Shayib, Prairie View A&M University
Rachel Graham, Grand View University
Jeffrey Zahnen, Daytona State College
Dawn Holmes, University of California at Santa Barbara
Each year, the statistical project competition attracts a wide variety of submissions in which students from different grades, 7–12, conduct creative studies. This year, the submission deadline for the project competition was changed to June 1 to enable participation from high-school students who may have been preparing for the AP Statistics exam administered in mid-May. The new deadline also made it possible for teachers who might otherwise be busy at the AP reading to assist with the competition judging. The statistical project competition was especially useful for these students because it provided them with opportunities to apply all the statistical skills they had acquired throughout the school year to solve real-world problems of interest to them. Motivation to participate in the competition included monetary awards, plaques, and new Texas Instruments calculators.
Grades 7-9
First Place
Andrew Blonsky
Dispersing Erosion Channels: Could a Pachinko-Enhanced Level Spreader Work Better?
Homeschooled
Lakewood, OH
Second Place
Valentina Lohr
Is Greywater 'Green?' The Relationship Between Greywater Application and Earthworm Food Supply
Williamsburg Middle School
Arlington, VA
Third Place
Anushka Dasgupta
The Effectiveness of Basecoats
Algonquin Regional High School
Northborough, MA
Grades 10–12
First Place
Julin Justin, Brenda Oh, Jane Park, and Marilyn Yang
Is Musical Involvement Indicative of Higher GPAs?
Oakton High School
Vienna, VA
Second Place
Omegar Chavolla-Zacarias, Mia Dwyer, Katharine Mesrobian, and Corinne Rivard
Chew on This
Phillips Academy
Andover, MA
Third Place
Rhea Singh, Emory Lee, and Emily Krisanda
Study of the Relationship Between Student's Participation in Sports and Their Level of Academic Effort
Oakton High School
Vienna, VA
Honorable Mention
Maura Barry-Garland
An Analysis of Recidivism in the North Star Youth Court
Austin E. Lathrop High School
Fairbanks, AK
Students outside the regional competition areas submit their posters directly to the ASA office to be judged separately by the Washington Statistical Society as part of the Other region. The best posters from each region are sent to the national judging. Information about regional poster competitions and winners is available on the individual regional poster competition websites.
Get Involved
For information about how you can start a regional poster competition or mentor students in your area, see the article appearing in the July 2011 issue of Amstat News. You can download a flyer about the ASA poster and project competitions and other K–12 statistics education programs and resources to share with your local schools at the bottom of the page. For additional information or questions regarding how to get involved in the poster or project competitions, contact ASA Director of Education Rebecca Nichols at rebecca@amstat.org.