People News for June 2013
1 June 2013
103 views
No Comment
Buchman
Management Science Associates, Inc. is pleased to announce the promotion of Susan Buchman to the company's first chief data scientist. Buchman joined Management Science Associates in August 2010 and most recently served as director of analytic services. She earned a bachelor's in mathematics at the Massachusetts Institute of Technology in 2001 and a master's and PhD in statistics from Carnegie Mellon University (CMU), specializing in nonparametric statistics and high-dimensional data. She previously worked at Travelers Insurance and CMU's Robotics Institute.
Roger Hoerl
Roger Hoerl, the Donald C. Brate '45-Stanley G. Peschel '52 Assistant Professor of Statistics, will receive the Statistical Advocate of the Year award from the Chicago Chapter of the American Statistical Association. The award, which recognizes those who successfully advocate for the importance of data and sound analysis in a variety of sectors, also celebrates the contributions of the late Harry V. Roberts, a noted statistician whose work had a significant impact on the practice and teaching of statistics. Hoerl, who joined Union College last fall, previously led the Applied Statistics Laboratory at GE Global Research. His recent research interests have focused on the development of the discipline of statistical engineering, which provides approaches for addressing large, complex, unstructured problems.
Sastry Pantula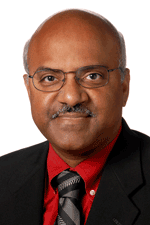 Oregon State University (OSU) has named Sastry Pantula, a statistics professor at North Carolina State University who has served as director of the National Science Foundation's Division of Mathematical Sciences since 2010, as dean of OSU's College of Science.
Pantula, who will begin his new duties on August 30, succeeds interim dean Vince Remcho. Past-President and Fellow of the American Statistical Association, he is also a Fellow of the American Association for the Advancement of Science.
"Sastry Pantula has a distinguished career, during which he consistently has demonstrated his ability to help develop outstanding opportunities for undergraduate and graduate students and collaborative research, as well as build strong and diverse faculty," said Sabah Randhawa, OSU provost and executive vice president. "The College of Science and Oregon State University will benefit from his excellent organizational and leadership skills."
Pantula has been on the North Carolina State faculty since 1982. He headed the statistics department there for eight years and directed the university's Institute of Statistics. During his tenure, he worked with his dean and the college foundation to create three $1 million endowments for distinguished professors. Since 1999, working with colleagues and alumni, he also has secured more than $7 million in funding from the National Science Foundation and other agencies and industries to promote graduate student training and mentorship.
His own research focuses on time series analysis and econometric modeling with a broad range of applications. He has worked with the National Science Foundation, U.S. Fish and Wildlife Service, U.S. Environmental Protection Agency, and U.S. Census Bureau on projects ranging from population estimates to detecting trends in global temperature.
As dean of OSU's College of Science, Pantula will provide leadership for some of OSU's most recognized disciplines, including nationally noted programs in physics, ecosystem informatics, water resources, and environmental health science. The college is a major reason OSU has gained the top ranking in the United States for conservation biology in recent years. Diversity of sciences in the college, including mathematical and statistical sciences, provides innovative opportunities for fundamental and multidisciplinary research collaborations across the campus and around the globe.
Pantula holds bachelor's and master's degrees from the Indian Statistical Institute in Kolkata, India, and a PhD in statistics from Iowa State University. Submitted by Mark Floyd
J. N. K. Rao
J. N. K. Rao of Carleton University was awarded an honorary doctorate (laurea honoris causa) by the Catholic University of Sacred Heart, Piacenza, Italy, during a special ceremony on March 20. Rao delivered a lecture titled "Impact of Sample Surveys on Social Sciences" after receiving the award.