New Year Brings Changes
1 August 2013
41 views
No Comment
Michelle Everson, JSE Editor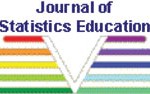 Twenty years ago, in July, the Journal of Statistics Education (JSE) was launched under the leadership of E. Jacquelin Dietz from Meredith College. To commemorate the 20th anniversary, the July 2013 issue takes a look back at some of the first articles to be published in JSE. We also take a look forward as we think about the future of JSE.
JSE is branching out in different ways. It now has a presence on both Facebook and Twitter, and it is hoped that social media will be a way for JSE readers to share and discuss articles and issues related to statistics education. Those who want to join the Facebook group can either search for "Journal of Statistics Education" when logged on to Facebook or go directly to the page. The Twitter handle for JSE is @JStatEd.
A new department was announced in the March 2013 issue called Research on K–12 Statistics Education. Tim Jacobbe, from the University of Florida, will serve as the editor, and you can find a description and call for papers on the website. Papers for this new department can be submitted at jse@umn.edu or sent to Jacobbe at jacobbe@coe.ufl.edu.
Most exciting is a new webinar series affiliated with the Consortium for the Advancement of Undergraduate Statistics Education (CAUSE). Each month, the authors of one or two papers from JSE will share their work during a live web presentation. These presentations are then recorded and posted on the CAUSE website.
The first JSE webinar took place June 18 and featured presentations by Amy S. Nowacki from the Cleveland Clinic and Todd Schwartz from The University of North Carolina at Chapel Hill. The second JSE webinar took place on July 16 and featured Kirsten Doehler and Laura Taylor, both from Elon University. A third is scheduled to take place August 20 and will feature Lawrence Lesser from The University of Texas at El Paso, Robert Carver from Stonehill College, and Patricia Erickson from Taylor University. The August webinar will focus on a March 2013 JSE article titled "Using Fun in the Statistics Classroom: An Exploratory Study of College Instructors' Hesitations and Motivations."
JSE maintains a mailing list for those who want to receive alerts when new issues are published and announcements about upcoming webinars. If you wish to be part of this email list or you have questions or comments about JSE, contact JSE's editorial assistant, Jean Scott, at jse@umn.edu.