A New Design for the 21st Century
1 December 2015
344 views
No Comment
Lisa Blumerman
In October, the U.S. Census Bureau unveiled its Census 2020 Operational Plan. The culmination of years of research and testing, the operational plan lays the foundation for the most modern and dynamic census in our nation's history—and outlines how we propose to save taxpayers more than $5 billion compared to doing the census the old way.
The decennial census is the largest civilian mobilization effort the nation undertakes, and its effects are vast and far-reaching. Its results are used to apportion congressional representation and distribute federal dollars among states. Governments at all levels, businesses, organizations, and individuals rely on its data for decision-making every day, and it provides the population benchmark for nearly every other U.S. survey.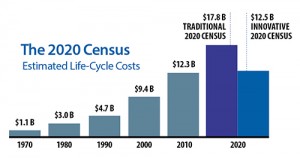 The overarching goal of the census is the same every decade: to count everyone in our nation once, only once, and in the right place. In 2020, we will be trying to reach an increasingly diverse and growing population of around 330 million people in more than 140 million housing units. We'll also have another challenge: conducting the census at a lower cost per housing unit (adjusted for inflation) than the 2010 Census, while maintaining high-quality results.
To meet that challenge, we plan to use a flexible design that takes advantage of new technologies and data sources while minimizing risk and ensuring a high-quality population count. The smart use of technology and information will make the census more efficient and accessible at every stage.
As we establish where to count, we'll conduct a 100% review and update of the nation's address list before the census. For 2020, we will minimize fieldwork with in-office updating—adding new addresses to the Census Bureau's address frame using multiple data sources, including geographic information systems and aerial imagery.
Next, we'll motivate people to respond to generate the largest possible self-response and reduce the number of households requiring follow-up. To do that, we'll conduct a nationwide communications campaign, using targeted ads in traditional and new media. We'll also partner with trusted sources to inspire participation.
Some of the biggest innovations will be deployed when we begin to count the population. We'll encourage households to respond using the Internet, reducing the need for more expensive data capture. We will use data the public has already provided to the government and data from commercial sources. Sophisticated operational control systems will automate follow-up work for those who do not respond to the census—optimizing assignments for census takers, letting them know right away which households have already responded, and sending them GPS-based directions to follow up with households that have not. The savings from these innovations will allow us to focus additional visits in areas that have been traditionally hard to enumerate.
Additionally, the plan spells out how we will thoroughly test every component of census operations, piece by piece and as a whole. Confidentiality and privacy are important to us, and we'll use layers of information security protections and protocol to secure the systems we use and data we collect.
The 2020 Operational Plan will let us use fewer staff and offices during the 2020 Census—for example, we anticipate having half the number of regional census centers, area census offices, and trained enumerators than we did in 2010. By using innovations to reduce the burden for the whole census life cycle, we will realize savings compared to conducting the census the same way we did in 2010.
Much more information about our plans for the 2020 Census is available online—you can find everything from footage of our project management review events to blog updates from Census Bureau Director John Thompson. The automations and innovations we'll use are truly groundbreaking, and I hope you'll visit www.census.gov to learn more about them.
Lisa Blumerman is associate director for Decennial Census Programs and acting associate director for the 2020 Census. She holds a master's degree in demography from Georgetown University and a bachelor's in sociology with a concentration in population studies from the University of Massachusetts at Amherst.