Applied Statisticians: Get the Most Out of JSM
1 July 2016
259 views
No Comment
This column is written for statisticians with master's degrees and highlights areas of employment that will benefit statisticians at the master's level. Comments and suggestions should be sent to Megan Murphy, Amstat News managing editor, at megan@amstat.org.
Amit Bhattacharyya is an applied statistician who has worked in the pharmaceutical industry for the last 23 years—most recently, as the senior director at GlaxoSmithKline. Bhattacharyya has also been active with the ASA and other international statistical professional associations. He earned his PhD in statistics from the University of Maryland.
I am delighted to rejoin the ASA Committee on Applied Statisticians (CAS) as a recently appointed member. I am also excited to be part of a new, concentrated effort by the committee to develop awareness and promote careers in applied statistics.
Many of my fellow statisticians are actively registering for the yearly pilgrimage to JSM, the Joint Statistical Meetings. This year, the event will be held in the windy city of Chicago from July 30 to August 4. I am calling on you to engage in thoughtful discussions about various uses of statistical principles and applications.
Appropriately, the theme for JSM 2016 is "The Extraordinary Power of Statistics." JSM is a great venue for networking and learning; it's also where I have met most of my professional colleagues over the decades. Attend your sections' receptions, as well as any reception or business meeting listed in the program that is not closed. These meetings are a good opportunity to meet others working on similar challenges.
If you prefer more of a partying opportunity, don't miss the JSM Opening Mixer (enjoy the desserts) Sunday night and the JSM Dance Party Tuesday night. Also, take the time to enjoy a drink or bite to eat during a reception while learning about the host's contributions to statistics and applications. The Committee on Applied Statistics' Social Mixer will take place August 1 at 5 p.m. in the Hilton, Room 4L.
Volunteering for sections, chapters, committees, initiatives, and other opportunities is one of the best ways to contribute to our profession. In doing so, I have met new people and acquired roles in the organization while having a lot of fun each year at JSM.
With more than 700 technical sessions in addition to short courses and business meetings, it is daunting to decide which sessions to attend. The place to start is the JSM online program, where a number of events containing an asterisk (*) imply that the paper, panel, or poster is on an applied topic (keep in mind that "applied" is a relative term).
Wearing the hat of an applied statistician, I typically go to the Advanced Search option and look for sessions sponsored by sections familiar to me. Being a biopharmaceutical statistician, that is the section I look up first. CAS also co-sponsors a handful of sessions. And many CAS committee members this year are associated with the Statistical Consulting Section, so I will search by that section, too.
In addition to sessions, there are plenty of continuing education courses to enhance your development in a new area. These are additional-fee events worth considering, as they add value to the JSM experience. If you'd like to learn about a new upcoming area, look for introductory overview lectures, which are usually delivered at a basic level.
For sharing ideas or meeting new people working on similar areas of interest, try out an A.M. (with breakfast) or P.M. (with lunch) roundtable.
I look forward to seeing you in Chicago!
JSM 2016 Applied Events Recommended by CAS Members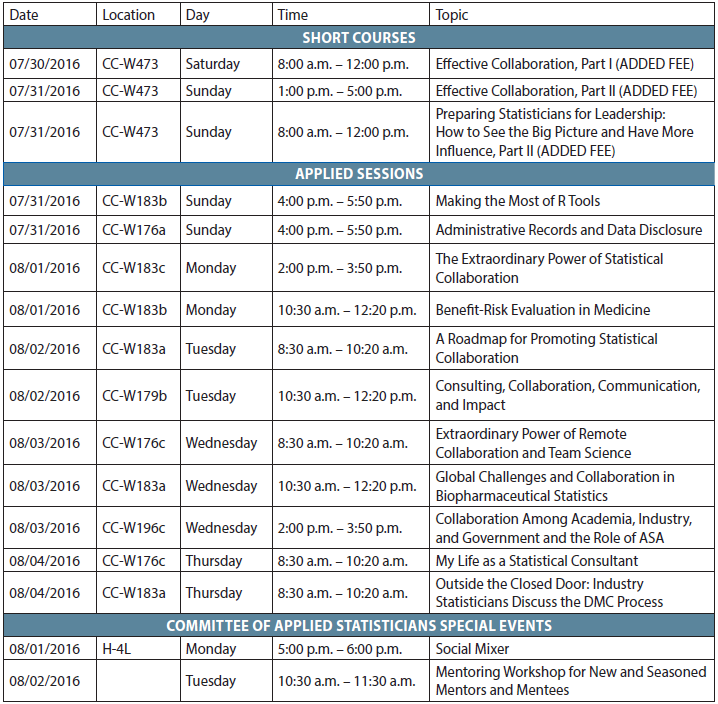 Note: View the online program for up-to-date times and locations.