ASA Sponsors DSAA2017
1 February 2017
82 views
No Comment
Elevates Impact of Statisticians in Data Science
Jill Talley, ASA Public Relations Manager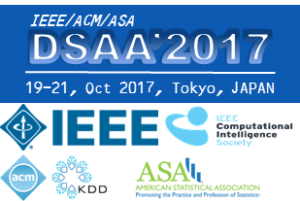 Recognizing that statistics is one of three foundational areas of data science, the ASA is sponsoring the 4th IEEE International Conference on Data Science and Advanced Analytics (DSAA2017) October 19–21 in Tokyo, Japan. Founded in 2014 by the Institute of Electrical and Electronics Engineers (IEEE) Computational Intelligence Society and the Association for Computing Machinery (ACM) Special Interest Group on Knowledge Discovery from Data, the conference provides a premier forum for researchers, industry practitioners, and Big Data users to exchange ideas and participate in top-level discussions about best practices of applications and the latest theoretical developments in data science and analytics.
"Statistics, by nature, is interdisciplinary and—together with the expansive field of data science—can spur innovation and solve some of society's most pressing challenges," said Ron Wasserstein, executive director of the ASA. He continued, "The opportunity to collaborate with IEEE and ACM on DSAA2017 will drive discussion among some of the world's foremost scientific leaders, business executives, and government officials, harnessing the power and possibilities of data-driven scientific discovery while showcasing and strengthening the expertise of statisticians in high demand all over the world."
In 2017, the ASA will play an active role in planning the conference program, including identifying session topics and speakers and assisting with overall conference promotion to key target markets. The ASA sponsored the conference in 2016 as well, marking the first time statistical and computing/information science societies teamed up to conduct a data science conference and promote disciplinary development in data science.
"The healthy development of data science relies heavily on the effective dialogue between relevant disciplines, in particular, statistics, computing, management, and social science, as well as different domains and areas," said Longbing Cao, chair of the DSAA Steering Committee. "DSAA is a unique global driver to enable and promote such transformative collaborations by initiating and continuously organizing strategic and high-profile activities, in particular, encouraging and underpinning the continuous engagement of ASA and statistics communities. Every year, DSAA supports prestigious keynote, tutorial, special sessions, and invited talks about data science trends by top leaders in statistics."