San Antonio Chapter Mentors STEM Students
1 February 2017
82 views
One Comment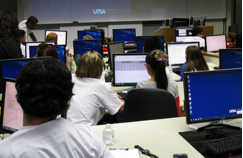 The San Antonio Chapter, in collaboration with the department of management science and statistics and ASA student chapter at The University of Texas at San Antonio, promoted statistical literacy and supported the Saint Matthews Catholic School STEM club in December.
The STEM club students (grades 6–8), along with their parents, were paired with statistics mentors to review their research project objectives and protocols and analyze the data. They learned about the fundamental statistical concepts in understanding any scientific phenomenon, as well as how to analyze quantitative data using proper statistical methods and present/interpret the results with statistical significance.
The STEM club students will be competing in the upcoming Alamo Regional Science Fair.