ASA Challenges Stat-Savvy Students Through Public Education Campaign
1 June 2017
71 views
No Comment
Jill Talley, ASA Public Relations Manager
Just as the fields in which statistics is applied are dynamic, so too are the channels and resources we use to inform and engage students, teachers, and parents about the value of statistics education. The ASA's public education campaign, ThisIsStatistics, continues to implement unique strategies and expand its creative educational portfolio to attract growing audiences both inside and outside the academic environment.
Growing its presence beyond math teachers and school counselors, ThisIsStatistics appeared at the National Science Teachers Association annual conference in April. The ASA's K–12 Statistical Ambassador Christine Franklin <> promoted the campaign and shared statistics education materials with thousands of high-school science teachers across the United States. She also connected with producers of National Public Radio's popular series, "Science Friday," helping to spark interest and understanding of statistics as a scientific discipline to a potential global audience.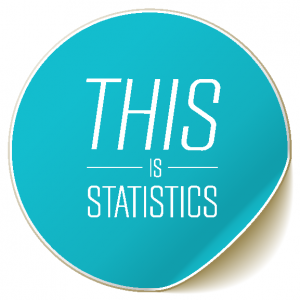 Keeping students, teachers, and parents updated on diverse statistics activities and developments, the ThisIsStatistics blog recently featured entries about dynamic research applications and career guidance during Mathematics and Statistics Awareness Month, professional opportunities to make a difference in climate change during National Environmental Education Week, a report from the Business Higher Education Foundation and PwC chronicling the demand for students and professionals with data science skills, and an inspirational profile of high-school statistics student Jenny Chen.
Like parents and other influencers, students consume news on a daily basis and are just as easily to be swayed by misrepresented or manipulated data that may appear legitimate and trustworthy. In an effort to combat such confusion, ThisIsStatistics is publishing a "quick tips" guide to help the public discern statistical facts from fiction so consumers can feel confident in the news they consume and data being reported.
While millions were drawn to TV screens during March Madness, hundreds of high-school and undergraduate students took to computers, brackets, and statistical software, competing in Statsketball 2017, a competition where they used statistics to predict outcomes of the 2017 NCAA Men's College Basketball Tournament. Challenged to select teams most likely to win in an upset in the Round of 64 and/or compile a group of teams with the most potential for round-by-round victories, participants showed their statistical prowess could be applied to one of the country's most popular sporting events.
Judges Laurel Chiappetta, founder of Data Diva statistical consulting; Stephen Loftus, analyst in baseball research and development for the Tampa Bay Rays; and Steven Rigdon, professor of biostatistics at Saint Louis University and chair of the ASA's Statistics in Sports Section, rated contestants not only on calculations, but also their ability to effectively communicate statistical strategy.
Naveen Gooneratne, a senior at Lower Merion High School in Ardmore, Pennsylvania, and James Andrews, Jordan Levy, and Connor Heuerman, seniors at College Park High School in Pleasant Hills, California, won at the high-school level. Michael McLaughlin, a junior at Temple University, and Jason Thompson and Graham Pash, sophomores at North Carolina State University, took the top spots at the undergraduate level.
While sports statistics may be a captivating specialization among today's youth, the ASA recognizes it's not the only popular field in which students can apply statistics. Plans for the coming school year may include a forensic science hackathon in addition to the popular videos and quizzes.
Aside from contests, news feeds, and conferences, engaging students and other stakeholders these days stretches into the wide world of social media. Through its digital platforms, ThisIsStatistics continues to expand its reach and draw even wider interest. To date, the website has counted more than 221,000 visits, 41% of which come from a mobile device or tablet, while Facebook and Twitter posts and advertisements yielded 10,000 followers. More than 650 students have participated in ThisIsStatistics contests and webinars and, whether it's learning about unique career opportunities or hearing directly from employers, YouTube viewers have watched the equivalent of almost five months of ThisIsStatistics videos.
Visit ThisIsStatistics for dynamic educational tools and resources to help foster statistical literacy and understanding in the next generation.