Peace Through Statistics
1 May 2011
13,706 views
18 Comments
Jürgen Symanzik, Utah State University, and Natascha Vukasinovic
The list of recent Nobel Peace Prize laureates goes as follows:
2009—Barack H. Obama, president of the United States of America
2010—Liu Xiaobo, Chinese dissident
2011—Miodrag Lovrić (Serbia), Jasmin Komić (Bosnia and Herzegovina), and Ksenija Dumičić (Croatia), statisticians
That's a joke, isn't it? Actually, no, but a possible (perhaps not very likely) outcome for the 2011 Nobel Peace Prize award. Lovrić, Komić, and Dumičić were among the 241 nominations (188 individuals and 53 organizations) entered by the February 1, 2011, deadline for the 2011 Nobel Peace Prize. What led to the nomination of a group of three statisticians for such a prestigious award?
Flashback to the 1990s: The Yugoslav Wars and Split of Former Yugoslavia
The fall of communism in eastern European states resulted in mostly peaceful splits of former communist countries such as the Union of Soviet Socialist Republics (USSR) and Czechoslovakia in the early 1990s. However, this wasn't the case for Yugoslavia. Due to tensions between different ethnicities (e.g., Serbs, Albanians, Bosniaks, Croats, Macedonians, Montenegrins, Slovenes), religions (e.g., orthodox Christian Serbs, Catholic Croats, Muslim Bosniaks), and economic pressures, a series of multiple wars broke out in Yugoslavia throughout the 1990s. As a result of these wars, Yugoslavia broke into seven independent states: Bosnia and Herzegovina (with three political entities, the Republika Srpska – RS, the Federation of Bosnia and Herzegovina, and the Brčko District), Croatia, Kosovo, Macedonia, Montenegro, Serbia, and Slovenia, as shown in 2008 in Figure 1.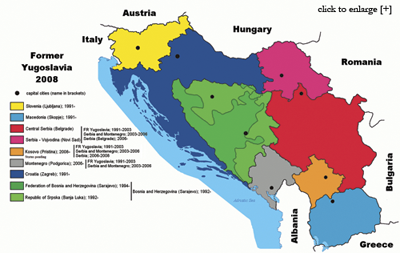 Recent History: Did Science Lose?
Since the 1990s, the quality of education at many universities in Yugoslavia has deteriorated due to lack of funding and political instability. Many universities have become a place of political opposition, rather than a place to study and conduct research. Similar to other natural sciences and mathematics, the field of statistics suffered tremendously in all countries that originated from former Yugoslavia. As an example, only one student earned a PhD in statistics since 2002 from the University of Belgrade.
The International Encyclopedia of Statistical Sciences
To help mediate the lack of statistical education and statistical expertise in the spin-off countries of former Yugoslavia, Lovrić formed an organizational committee in late 2007, with one member each from Bosnia and Herzegovina (Komić, committee president), Croatia (Dumičić), Macedonia (Kalina Trenevska Blagoeva), Serbia (Milan Merkle), and Slovenia (Jože Rovan). Initially, the idea was to write and promote a dictionary of statistics with only statisticians from former Yugoslavia as contributors. Later, the name of this project was changed to lexicon of statistics. Deciding on a language for this dictionary/lexicon was difficult as many related, but different, languages are spoken in these countries. Eventually, the decision was made to publish all entries in English.
Lovrić and Vladislav Milošević (who passed away in 2009) were the original co-editors of the dictionary/lexicon. They came up with the idea from long discussions between Lovrić and Komić while working on their textbook, Statistička Analiza – Metode i Primjena (Statistical Analysis – Methods and Applications), that was published in 2006 in Banja Luka, Bosnia and Herzegovina. Lovrić said, "I sent the first invitation to Sir David Cox on May 23, 2008." Contributions followed from such eminent statisticians as Peter Hall, Bradley Efron, James Hamilton, Robert Tibshirani, David Moore, Ronald Iman, Peter Diggle, and E.L. Lehmann. Short articles also came in from Thomas Hettmansperger, Peter Kennedy, Geert Molenberghs, Hirotogu Akaike, and Alan Agresti.
Over time, members of the organizational committee realized statistics and statistics education was not only in decline in spin-off countries of former Yugoslavia, but in many developing countries, as well. A main focus of the project became to "help revive statistics education in developing countries." Therefore, statistical experts from around the world, including many from developing countries, were invited to write an article. Figure 2 shows the first few paragraphs of an email invitation from May 2009 that further described the motivation for the lexicon. The name of the project changed once more to its final name, the International Encyclopedia of Statistical Science (IESS).
In an email, Lovrić stated: "It was a kind of destiny that the current president of the Republic of Srpska, Milorad Dodik, had a visionary view and helped me substantially." The initial contact between Lovrić and Dodik was established through Komić.
The preface of the IESS says, "This goal [to help revive statistics education] has attracted and united many leading world statisticians, four Nobel Laureates, many eminent mathematicians, psychologists, philosophers, econometricians, economists, academicians, presidents and founders of statistical societies, and editors and associate editors of many reputed international journals." Eventually, 619 authors from 104 countries (see Figure 3 for a geographic breakdown) contributed 636 entries to the IESS. With respect to the number of countries involved, this is one of the largest international scientific projects and bypasses the number of participating countries of most, if not all, previous statistical lexica and encyclopedias. The PDF of the list of contributors has been reposted.
While Lovrić (due to Milošević's health) had to do almost all the editorial work, he gives credit to the contributors: "Finally, it is very important to stress out the help of many statisticians worldwide (starting with Sir David Cox). Many of them suggested new names for contributors and topics, also many took the role of referees. Therefore, I regard IESS as a joint world effort."
The three-volume hardcover edition of the IESS currently retails for $1,100, but there exist freely accessible versions of the articles, where many of the contributing authors of the IESS have been invited to upload their entries.
The Nobel Peace Prize Nomination
In late January 2011, numerous newspapers and TV channels in some of the spin-off countries of former Yugoslavia reported that Lovrić, Komić, and Dumičić were nominated for the Nobel Peace Prize. While the Nobel Peace Prize Committee in Oslo, Norway, restricts disclosure of the nominations, the qualified nominators have the right to reveal whom they have nominated.
Lovrić, Komić, and Dumičić were initially proposed by the Academy of Sciences and Arts (and its president) of the Republika Srpska. Later, the RS Ministry of Science and Technology joined the proposal. The government also joined and authorized the minister of education, minister of finance, minister of science and technology, minister of economic and regional relationships, and minister of justice to sign the proposal and formally nominate Lovrić, Komić, and Dumičić. The justification for the nomination was that Lovrić, Komić, and Dumičić "provided an outstanding contribution to world peace and science, making the largest international scientific project ever implemented in history (the number of countries involved)—the International Encyclopedia of Statistical Sciences—which is the work of 619 eminent experts from 105 countries from six continents." Moreover, one of the justifications stated, "No one in history has ever managed to unite, like brothers, the nations on this planet under one pacifistic and scientific idea, as it succeeded Miodrag Lovrić, Jasmin Komić, and Ksenija Dumičić due to the fact that they and their many years of outstanding efforts could unite scientists from countries that account for 90% of the world's population." In an email, Lovrić indicated their nomination was supported by two additional qualified nominators from Serbia and Spain.
The online SUTRA magazine from Bosnia and Herzegovina concluded, "These candidates belong to three different countries, three religions in the area that was affected by conflicts, and if they were awarded it would be a paradigm, a model, and a signal for all new generations in the region that the political solution can only be reached on the basis of joint work and concessions, rather than war and violence."