World Statistics Day
1 October 2010
4,391 views
2 Comments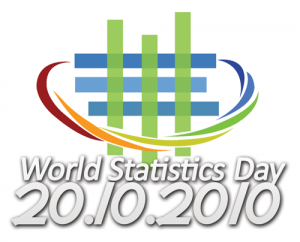 Download the United States World Statistics Day poster or visit the World Statistics Day website to view statistics events around the world.
Also, read about the National Health and Nutrition Examination Survey (NHANES), which recently celebrated its 50th anniversary.

In celebration of World Statistics Day, Amstat News asked staff from several federal statistical agencies to provide a list of their agency's accomplishments, both recent and historical. Documented here is a rich history of providing statistical data that informs policymaking in the public and private sectors, resulting in economic development and smarter, more effective government. Also documented is a commitment to innovation and adaptation that has kept federal statistical products current and reliable.
Established in 1960, NCHS has served as the nation's principal health statistics agency, compiling statistical information to guide actions and policies that improve health. NCHS conducts a range of surveys supported by innovative programs in data collection and dissemination. Information is obtained from health care providers, vital records, and the population through interviews and examinations.
NCHS data are used to guide policymakers, track initiatives and trends in health care and health behaviors, and shape research priorities. For example, NCHS data have been used for the following:
To help set the recommended intake levels for vitamins, minerals, and other nutrients
To document immunity to diseases
To contribute to our understanding of exposure to environmental chemicals, including lead and second-hand smoke
To document changes in health care delivery (e.g., Americans are receiving more medications, getting more care in ambulatory settings and less care as hospital inpatients, and facing more crowding in emergency departments)
To measure increasing use of health information technology
To monitor efforts to reduce teen pregnancy
To highlight high levels of obesity, hypertension, and cholesterol and monitor the impact of interventions
To document trends in the use of preventive services such as mammograms and immunizations
To document declines in heart disease and stroke deaths and improvements in life expectancy
NCHS's survey research and data dissemination programs have sought to do the following:
Take advantage of advances in technology while protecting respondent privacy
Improve measurement of disability
Assess whether survey questions are obtaining the desired information
Improve data standards and classification systems
Launch an initiative to establish a network of users and suppliers of community health data, indicators, and interventions
Disseminate data widely—through reports, public use files, interactive warehouses, and research data centers—and provide tutorials for data users