Practical Significance | Episode 31—Talking Shop: Introducing the ASA Caucus of Industry Representatives
3 July 2023
205 views
No Comment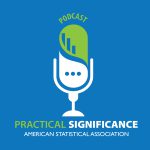 The ASA recently formed the Caucus of Industry Representatives to promote statistics and data science in the private and public sectors and provide resources to successfully advocate for the discipline. Ginger Holt, who is leading the effort as chair of the executive committee, and committee member Amarjot Kaur talk shop with Practical Significance co-hosts Donna LaLonde and Ron Wasserstein, touching on everything from the most significant challenges facing industry statisticians and data scientists to the opportunities and implications of large language models.
Holt, senior staff data scientist at DataBricks, and Kaur, executive director at Merck, also give us a glimpse into their day jobs and share their vision for the caucus. And they impart sage career advice.
Finally, you won't want to miss Ron's traditional Top 10 as he offers up the "Top Ten Statistics and Data Science T-Shirt Slogans." You'll see a few of these on new T-shirts at JSM in Toronto!