ASA 2013 Statistics Poster and Project Competition Winners
1 August 2013
9,027 views
2 Comments
The American Statistical Association is pleased to announce the winners of the 2013 Poster Competition and Project Competition. First-place winners received $200, a plaque, a plaque for their school, and grade-appropriate graphing calculators for the students and advisors provided by Texas Instruments. Second-place winners received $100 and a plaque; third-place winners received $50 and a plaque; and honorable mentions received certificates.
The poster and project competitions are directed by the ASA/NCTM Joint Committee on Curriculum in Statistics and Probability, with Linda Quinn of Cleveland State University serving as the poster competition leader and Jamis Perrett of Monsanto Company serving as the project competition leader. K–12 posters are due every year on April 1. Projects (written reports) for grades 7–12 are due every year on June 1. Visit the competitions web page for information, including previous winners, entry forms, instructional webinars, and a rubric of how the posters and projects are judged.
2013 National Project Competition Winners
The statistical project competition always attracts a wide variety of submissions from different grades, 7-12. This year was no different with 180 submissions. Students have been very creative conducting studies regarding social media, stress, ACT scores, golf, and much, much more.
The statistical project competition is especially useful for the high school AP statistics classes. Students in these classes are learning the basics of statistics methodology. This year, the AP statistics exam was held on May 10, three weeks prior to the submission deadline for the project competition. For many schools, there are still weeks of school left after AP statistics exam has passed. Conducting a statistical project can be a powerful learning experience, and the statistical project competition can provide the motivation. Statistical projects allow students to apply all the statistical skills they have acquired throughout the school year to solve a real-world problem of interest to them. Monetary awards, plaques, and new TI-Calculators as prizes contribute to the motivation.
Grades 7-9
First Place
Valentina Lohr
Greening Greywater: Testing Filtration Systems to Protect Earthworm Food Supply
Thomas Jefferson High School for Science & Technology
Arlington, Virginia
Second Place
Divya Wodon and Naina Wodon
Analyzing the Determinants of Individual Sales at Nonprofit Thrift Stores: A Case Study for Martha's
Washington International School
Washington, D.C.
Third Place
Andrew Blonsky
Building a Better Speed Bump
Homeschooled
Lakewood, Ohio
Grades 10-12
First Place
Srihari Mohan and Nick Rollman
Multi-Mania!: Are Our School's Multi-Meters Accurate Predictors of Resistance?
The Overlake School
Redmond, Washington
Second Place
Madeline Doctor and Olivia Powell
Does Language Influence How We Think?
Nashua High School North
Nashua, New Hampshire
Third Place
Dylan Arya, Maddie Brady, Abby Letts, and Whitney Cohen
Gender, Sexuality, and Helpfulness
Flintridge Preparatory School
La Canada, Canada
Honorable Mention
Cathleen Gui
The Pressure is On: Stimulation, State of Attention, and Relation to Human Response
Walter Payton College Prepatory High School
Chicago, Ilinois
2013 National Project Competition Judges
Jamis Perrett (Monsanto Company) directed the project competition with the following judges:
Jocelyne Arnott, HSBC Bank USA
Laura Bauer, Villa Maria Academy, Malvern, PA
Diane Desantis, Algonquin Regional HS, Northborough, MA
Michael Drake, Springfield High School, PA
Steve Earth, Oakwood High School
Caitlyn Ellerbe, Medical University of South Carolina
Janet Fortney, Forsyth Country Day School
Heidi Gransar, Cedars-Sinai Medical Center, Los Angeles
Michael Grayling, (student) University of Cambridge
David Gurney, Southeastern Louisiana University
A. Scott Hagin, Edwardsville High School, Edwardsville, IL
Sharon Hessney, Massachusetts Mathematics & Science Initiative
Wei-Ting Hwang, University of Pennsylvania
Lynn Ibarra, Hempstead High School
Bobby Jenkins, IDEA College Preperatory Mission
Mimi Kallwitz, Prairie Ridge High School, Crystal Lake, IL
April Kerby, Winona State University
Nathan Kidwell, Dubuque Senior High School
Jessica Kohlschmidt, The Ohio State University Comprehensive Cancer Center
Margaret Kuczynski, North Seattle Community College
Elizabeth Kumm, inVentiv Health Clinical, LLC
Johanna Lewis, Cherry Creek High School
John F. Mahoney, Benjamin Banneker Academic HS, Washington, D.C.
Christopher J. Malone, Winona State University
Matthew McCall, University of Rochester Medical Center
Cheryl McKeeman, Langara College, Vancouver, Canada
Kevin Moore, Dekaney High School, Spring, TX
Leslie M. Moore, Independent Consultant
Leigh Nataro, Moravian Academy
Alfredo Navarro, U.S. Census Bureau
Elena Randou, George Mason University
Julie Roy, University of Louisiana at Lafayette
Kendra Schmid, University of Nebraska Medical Center
Susan Simmons, University of North Carolina Wilmington
Shuguang Song, The Boeing Company
Chris Stapel, The Blake School
Daren Starnes, The Lawrenceville School
William Thill, Harvard-Westlake
Doug Tyson, Central York School District
Rieken S. Venema, University of Alaska, Anchorage
Yan Wang, (student) University of California at Los Angeles
Donna Young, Kent Island High School
Zhiwei Zhang, (student) University of Pittsburgh
2013 National Poster Competition Winners
Grades K–3
First Place
Carson McCue
Dunkin' Data
The Alexander Dawson School at Rainbow Mountain
Las Vegas, Nevada
Second Place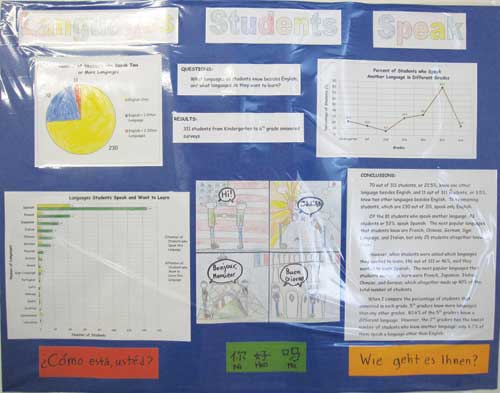 Caden Fujii
Languages Students Speak
Roslyn Elementary School
Roslyn, Pennsylvania
Third Place
Talitha Cheng
How Old Is Lincoln?
Rydal Elementary
Huntingdon Valley, Pennsylvania
Honorable Mention
Calder Small
The Many Lost Teeth of 2nd Grade
Copper Beech Elementary School
Glenside, Pennsylvania
Grades 4–6
First Place
Brandon Waters
Is the Lady Young or Old?
Hyde Park Middle School
Las Vegas, Nevada
Second Place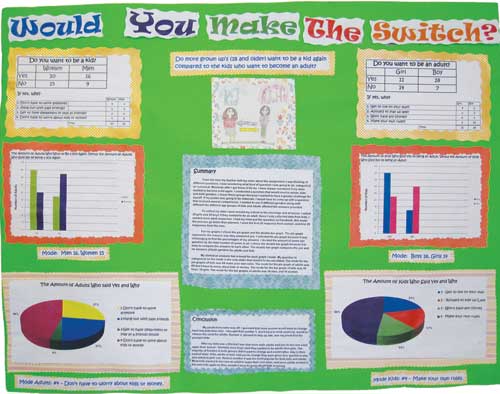 Josephine Ruggieri
Would You Make the Switch?
Eileen Conners Elementary School
Las Vegas, Nevada
Third Place
Jackson Debusschere
Olympic Success
Wallingford Elementary School
Wallingford, Pennsylvania
Honorable Mention
Grace Marshall, Robert Isacksen, and Daniel Lassila
Electric vs. Gas!! Which Car Is More Economical to Own?
Kazoo School
Kalamazoo, Michigan
Grades 7–9
First Place
Seungwon (Mei) Baek
Maple Seeds in Wind Power
Rachel Carson Middle School
Fairfax, Virginia
Second Place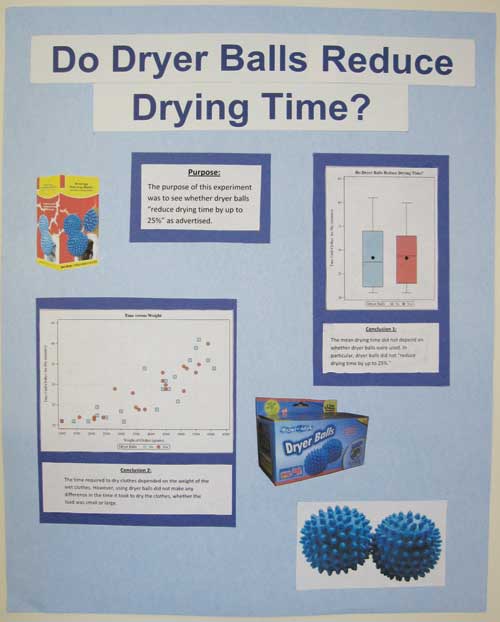 David Wicklin
Do Dryer Balls Reduce Drying Time?
St. Michael the Archangel Catholic School
Cary, North Carolina
Third Place
Brianne Siple
I Thought I Saw a Puddy Cat
St. John Lutheran
Grand Haven, Michigan
Honorable Mention
Sharon Marie Mathew and Christina Hanos
Variables Responsible for Obesity in Counties in NY
Clarkstown South High School
West Nyack, New York
Grades 10–12
First Place (Tie)
Kelly Hall
Do Male or Female Runners Improve More?
Saline High School
Saline, Michigan
First Place (Tie)
Brianna Dombo
Do New Teen Drivers Use Their Phones While Driving?
Saint Joseph Academy
Cleveland, Ohio
Second Place
Owen Stewart
A Color-Full First Impression
Ed W. Clark High School
Las Vegas, Nevada
Third Place
Samuel Koffman
Black Gold
Phillips Academy
Andover, Massachusetts
Honorable Mention
Omotayo Agaja
What Is the Best Way to Store Bread in Order to Preserve Its Freshness?
Cleveland Heights High School
Cleveland Heights, Ohio
2013 Regional Poster Competition Leaders
Connecticut Chapter Statistical Poster Competition
Marianne E. Messina
Bristol-Myers Squibb, Global Biometric Sciences Oncology
Kansas/Western Missouri Statistics Poster Contest
Ananda Jayawardhana
Pittsburg State University
Michigan Statistics Poster Competition
Dan Frobish
Department of Statistics, Grand Valley State University
Nevada K–12 Statistics Poster Competition
David Thiel
Clark County School District
Ohio Statistics Poster Competition
Jerry Moreno
John Carroll University
Pennsylvania Statistics Poster Competition
Pete Skoner
Saint Francis University, Science Outreach Center
Washington Statistical Society Poster Competition
Barnali Das
Westat
Other Region/ASA National Poster Competition
Leader: Linda Quinn, Cleveland State University
Contact: Rebecca Nichols, ASA Director of Education, rebecca@amstat.org
Students outside the regional competition areas submit their posters directly to the ASA office, which are then separately judged by the Washington Statistical Society as part of the Other Region. The best posters from each region are sent to the national judging. Information about regional poster competitions and winners is available on the individual regional poster competition websites.
Get Involved
For information about how to start a regional poster competition or mentor students in your area, see the article in the July 2011 issue. You can download a flyer about the ASA poster and project competitions and other K–12 statistics education programs and resources to share with your local schools on the ASA Education web page. For additional information or questions regarding how to get involved in the poster or project competitions, contact Rebecca Nichols at rebecca@amstat.org.