2016 Poster and Project Competition Winners
1 August 2016
7,956 views
No Comment
The American Statistical Association is pleased to announce the winners of the 2016 Poster Competition and Project Competition. First-place winners received $300, a plaque, a plaque for their school, and grade-appropriate graphing calculators for the students and advisers provided by Texas Instruments. Second-place winners received $200 and a plaque; third-place winners received $100 and a plaque; and honorable mentions received plaques.
The poster and project competitions are directed by the ASA/NCTM Joint Committee on Curriculum in Statistics and Probability. The 2016 poster competition leader was Rodney Jee of Discover Financial Services. Daren Starnes of The Lawrenceville School served as the head project competition leader, with Nathan Kidwell of Dubuque Senior High School as associate project competition leader.
K–12 posters are due every year on April 1. Projects (written reports) for grades 7–12 are due every year on June 1. Visit the Poster Competition and Project Competition web page for details about the competitions—including previous winners, entry forms, instructional webinars, and the rubrics used for judging the posters and projects.
2016 Project Competition Winners
Each year, the statistical project competition attracts a wide variety of submissions in which students from different grades, 7-12, conduct creative studies. The submission deadline for the project competition is June 1 to enable participation from high-school students who may have been preparing for the AP Statistics exam administered in mid-May. This deadline also makes it possible for teachers who might otherwise be busy at the AP Reading to assist with the competition judging. The statistical project competition is especially useful for these students because it provides them with opportunities to apply all the statistical skills they acquire throughout the school year to solve real-world problems of interest to them.
Grades 10–12
FIRST
Emma Kyle and Emily Molins
It's Their Fault
Loyola Academy, Wilmette, Illinois
SECOND
Michael Shen, Watchara Sornwanee, Jack Belluche and Carra Wu
Under Pressure: Are Your Peers Impacting Your Grade?
Phillips Academy, Andover, Massachusetts
THIRD
Delaney Bryant and Parker LaCourse
Social Media Preference by Gender
North Country Union High School, Newport, Vermont
HONORABLE MENTION
Andy Jin, Dagnall Forsberg, and Tim McGinley
Flower Power
Westlake High School, Westlake Village, California
Grades 7–9
FIRST
Celine Li
Water and Chocolate Milk: Which Forms a Greater Diameter When Splashed Onto the Floor?
Hopkins Junior High School, Fremont, California
SECOND
Chandni Bhagtaney
Math Class and Self-Esteem Levels
Beachwood Middle School, Sugar Land, Texas
THIRD
Sanjana Murthy and Shubhada Rao
How Does the Amount of Sleep You Get Affect Your Mood?
Beachwood Middle School, Beachwood, Ohio
HONORABLE MENTION
Andrew Chang
Arts and Gym Classes vs. Academic Classes
The Blake Middle School, Hopkins, Minnesota
2016 Project Competition Judges
Daren Starnes (The Lawrenceville School) and Nathan Kidwell (Dubuque Senior High School) directed the project competition. The following served as project competition judges:
Javier Alvarez
Corey Andreason
Susan Archer
Carole Bonner
Elizabeth Botzner
James Bush
Ruth Carver
Rameela Chandrasekhar
Lew Davidson
Angela Denney
Barbara Dobbs
Michael Drake
Lacey Echols
Kathie Emerson
Janet Fortney
Tina Fox
Hunter Glanz
Christopher Gray
Justin Grieves
David Gurney
Scott Hagin
Marylesa Howard
Monica Hyjek
Mimi Kallwitz
Carrie Ketchem
Ghada Khoury
Lynn Kidwell
Brianna Kurtz
Jennifer Langdon
Ann Lipp-Read
Veronica Lunde
Bridget Matamaros
Cheryl McKeeman
Sally Miller
Kathy Minnich
Leona Mirza
Shywanda Moore
Cindy Moss
Leigh Nataro
David Nezelek
Joe Oechsle
Larry Ottman
Heather Overstreet
Tom Parker
Kathy Petko
Ruth Reece
Julie Roy
Adam Shrager
Mary Simons
Tim Sirois
Shugang Song
Chris Stapel
Sharon Sterken
Jane Thomas
Doug Tyson
Marti Wayland
Ronald White
Christine Wozniak
Donna Young
2016 Poster Competition Winners
Grades K–3
FIRST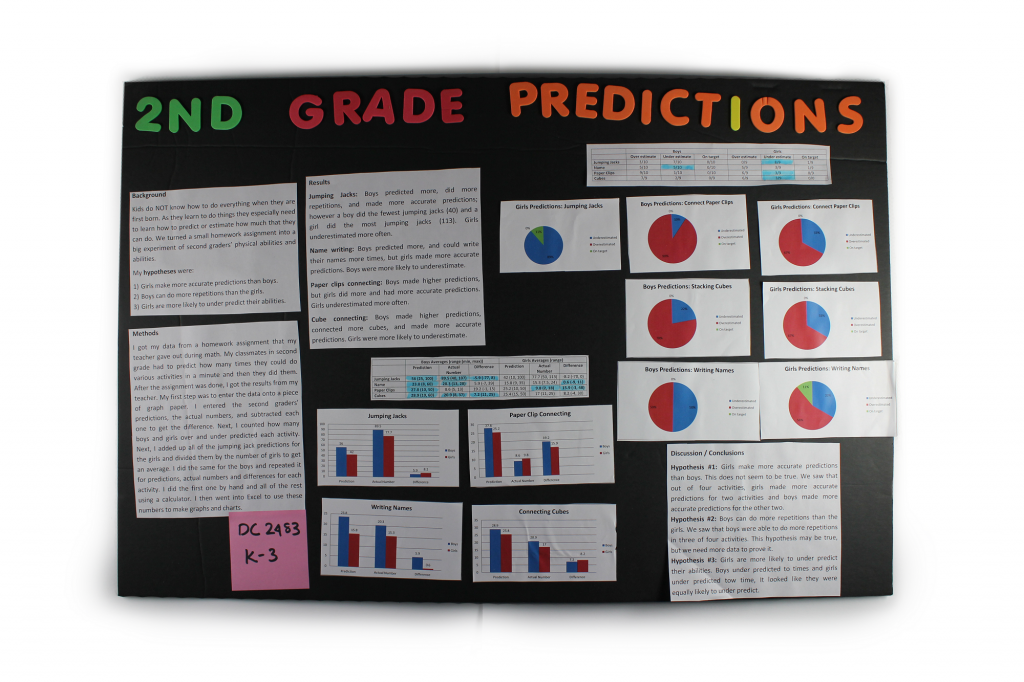 Quinn Shields
2nd-Grade Predictions
Carderock Springs Elementary, Bethesda, Maryland
SECOND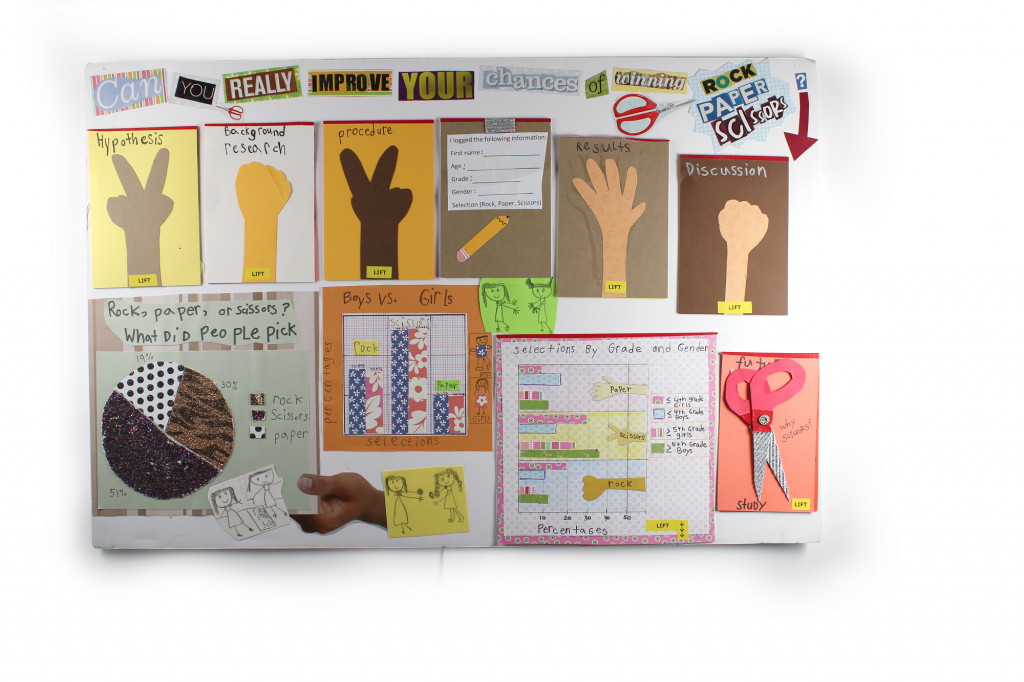 Madeline Krassner
Can You Really Improve Your Chances of Winning Rock-Paper-Scissors?
Overlook Elementary, Abington, Pennsylvania
THIRD


Aeryn Gibbons
Do People Still Say Thank You?
Roslyn Elementary, Roslyn, Pennsylvania
Grades 4–6
FIRST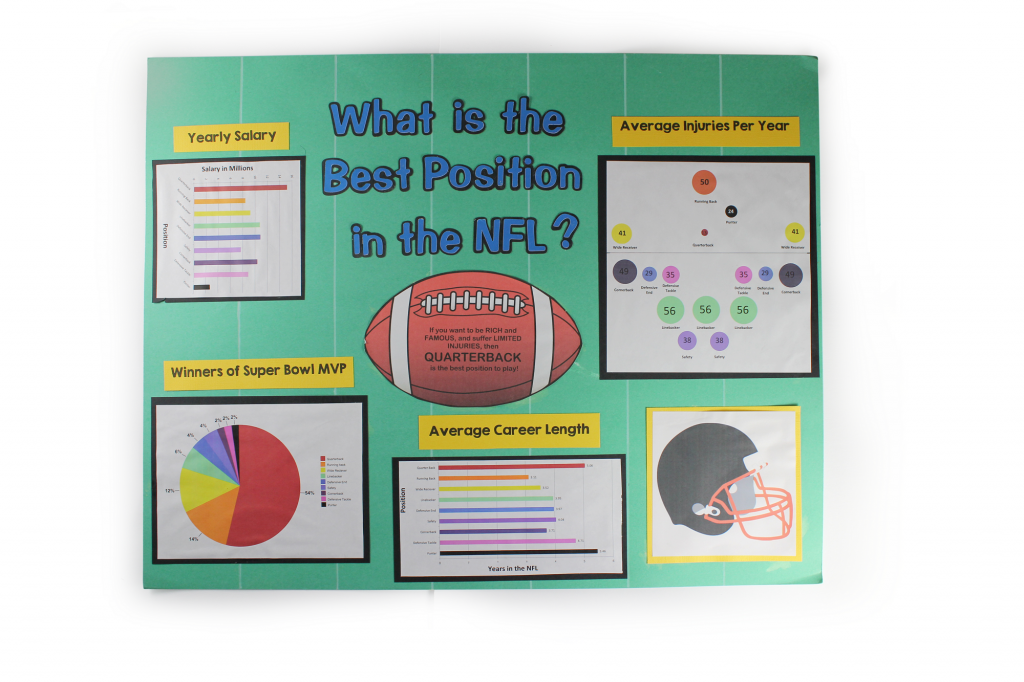 Alexander Fiore
What Is the Best Position in the NFL?
Hyde Park Middle School, Las Vegas, Nevada
SECOND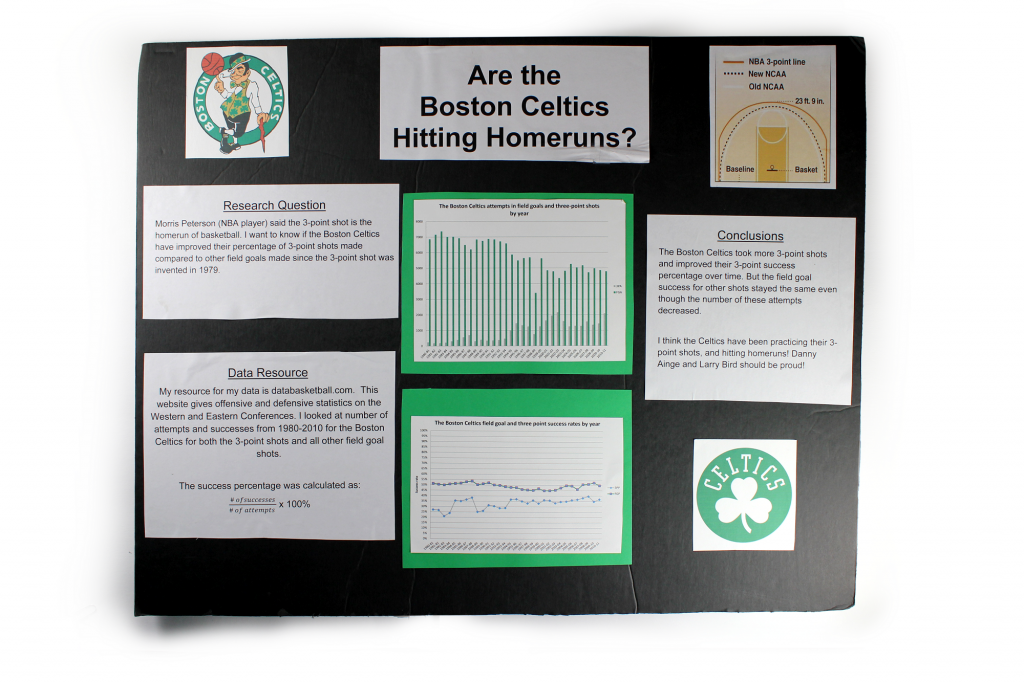 Clyde Mauldin
Are the Boston Celtics Hitting Homeruns?
Mason Preparatory School, Charleston, South Carolina
THIRD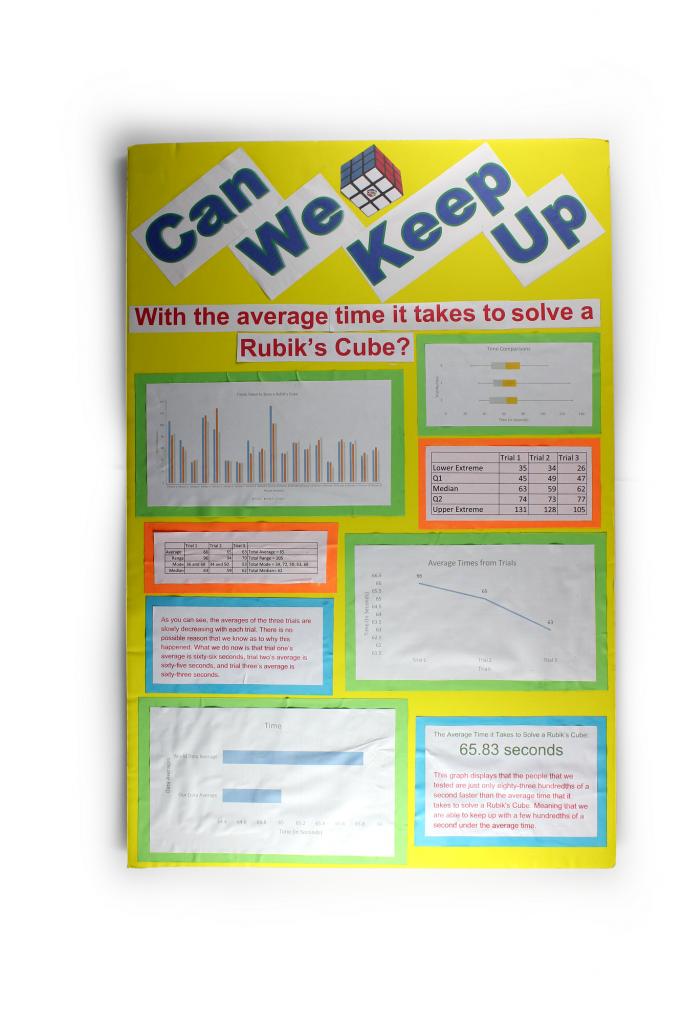 Aryaman Bisen, Fikreabe Getachew, Colin Jewell, and Aaron Luyen
Can We Keep Up with the Average Time It Takes to Solve a Rubik's Cube?
Hyde Park Middle School, Las Vegas, Nevada
Grades 7–9
FIRST


Dorris Dagama
Microwaves: Can They Affect Cellular Growth?
Forest Hills Central High School, Grand Rapids, Michigan
SECOND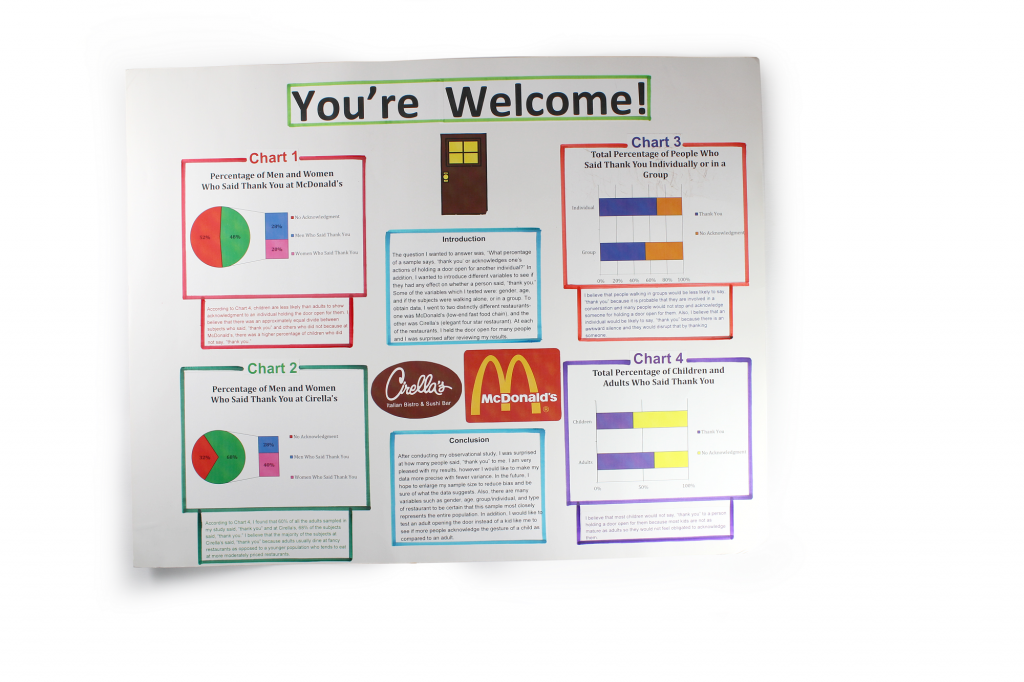 Leo Wild
You're Welcome!
Half Hollow Hills High School East, Dix Hills, New York
THIRD


Timothy Buchanan and Garbriella Cilio
Don't Be a Fool, Save Fuel
Norwood Fontbonne Academy, Philadelpha, Pennsylvania
Grades 10–12
FIRST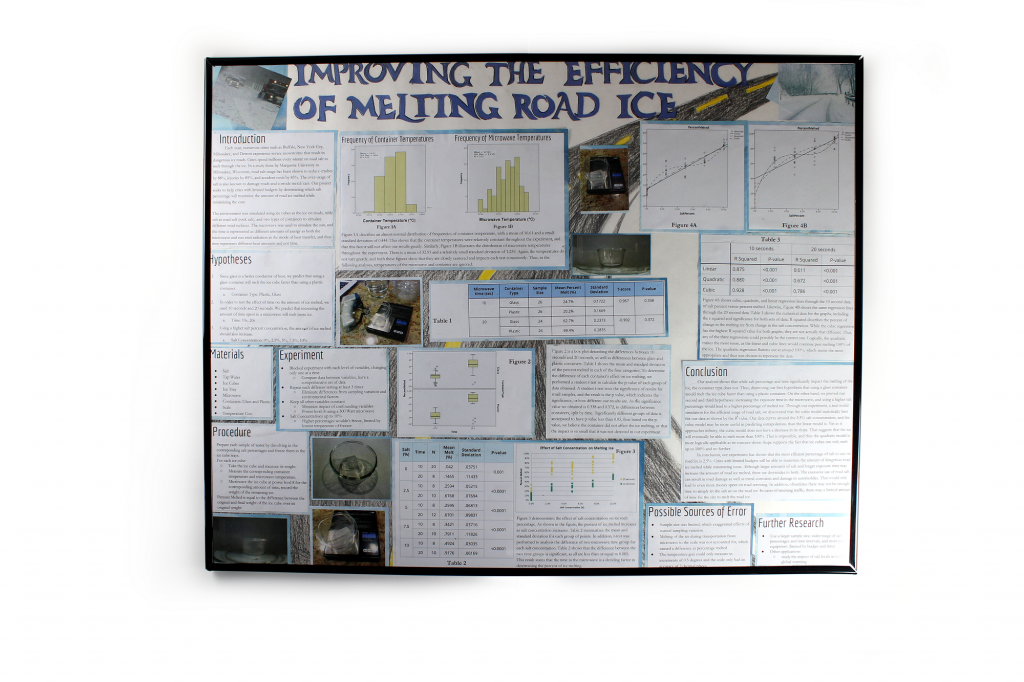 Amy Hung, Helen Li, Jessica Shu, and Selena Huang
Improving the Efficiency of Melting Road Ice
Lynbrook High School, San Jose, California
SECOND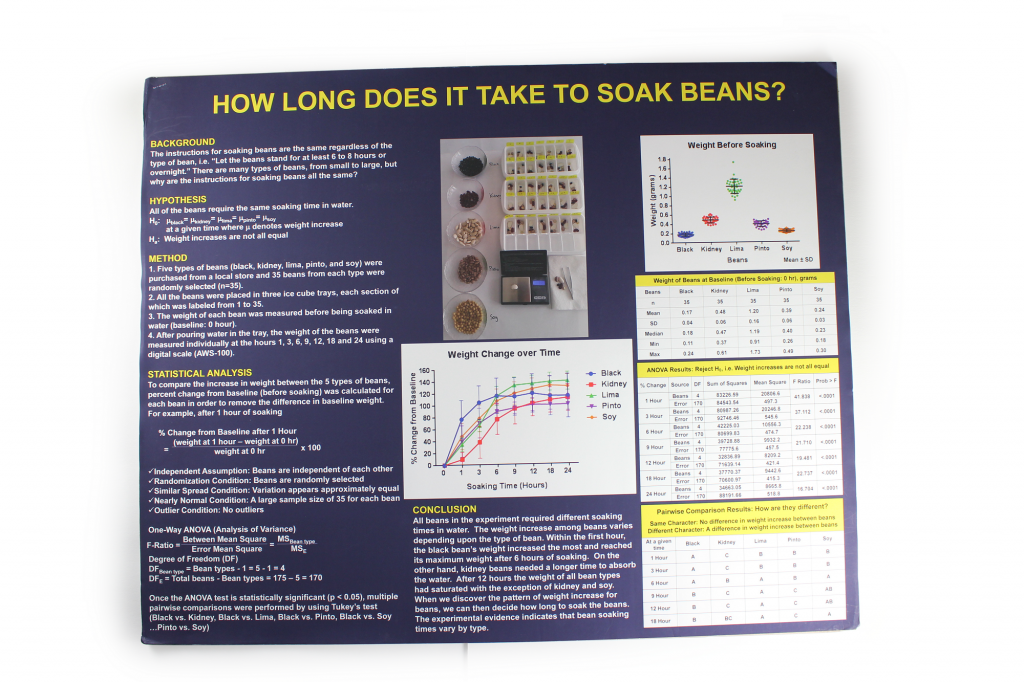 Jin-Su Lee, Jin-Ju Lee, and Jin-Hee Lee
How Long Does It Take to Soak Beans?
Mission San Jose High School, Fremont, California
THIRD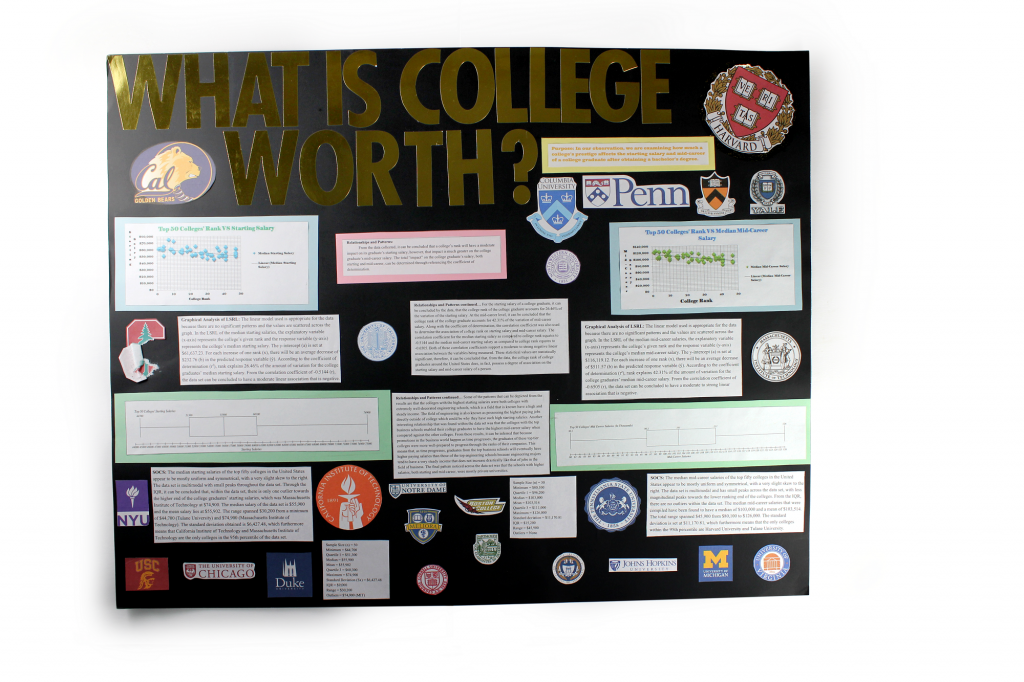 Ethan Nguyen and Julia Nguyen
What Is College Worth?
Palo Verde High School, Las Vegas, Nevada
Get Involved
For information about how you can start a regional poster competition or mentor students in your area, see the article appearing in the July 2011 issue of Amstat News. You can download a flyer about the ASA poster and project competitions and other K–12 statistics education programs and resources to share with your local schools. For additional information or questions regarding how to get involved in the poster or project competitions, please contact Rebecca Nichols at rebecca@amstat.org.
2016 Regional Poster Competition Leaders
Connecticut Chapter Statistical Poster Competition
Valerie Nazzaro, Wesleyan University
Jennifer McGinniss, Boehringer-Ingelheim
www.amstat.org/chapters/Connecticut/home/Poster/poster_index.htm
Kansas/Missouri Statistics Poster Contest
Ananda Jayawardhana, Pittsburg State University
www.pittstate.edu/department/math/stats_poster.dot
Michigan Statistics Poster Competition
Dan Frobish, Grand Valley State University
www.gvsu.edu/stat/mspc-homepage-22.htm
Nevada K–12 Statistics Poster Competition
David Thiel, Thrivent Financial
www.amstat.org/chapters/nevada
Ohio Statistics Poster Competition
Linda Quinn, Cleveland State University
Jerry Moreno, John Carroll University
www.bio.ri.ccf.org/ASA/poster.html
Pennsylvania Statistics Poster Competition
Pete Skoner, Saint Francis University Science Outreach Center
http://francis.edu/pa-statistics-poster-competition
Pullman, Washington Statistics Poster Competition
Dean Johnson, Washington State University
dean_johnson@wsu.edu
Washington Statistical Society Poster Competition (DC Metro Area)
Barnali Das, Lewin Group
www.amstat.org/education/posterprojects
ASA National Poster Competition
Leader: Rodney Jee, Discover Financial Services
Contact: Rebecca Nichols, ASA Director of Education, rebecca@amstat.org
www.amstat.org/education/posterprojects
Students outside the regional competition areas submit their posters directly to the ASA office. The posters are then separately judged by the Washington Statistical Society as part of the Other Region. The best posters from each region are sent to the national judging. Information about regional poster competitions and winners is available on the individual regional poster competition websites.