2017 Poster and Project Competition Winners
1 August 2017
1,148 views
One Comment
The American Statistical Association is pleased to announce the winners of the 2017 Poster Competition and Project Competition. First-place winners received $300, a plaque, a plaque for their school, and grade-appropriate graphing calculators provided by Texas Instruments for them and their advisers. Second-place winners received $200 and a plaque; third-place winners received $100 and a plaque; and honorable mentions received plaques.
The poster and project competitions are directed by the ASA/NCTM Joint Committee on Curriculum in Statistics and Probability. The 2017 poster competition was led by Rodney Jee of Discover Financial Services. Nathan Kidwell of Oaxaca Christian School in Oaxaca, Mexico, served as the head project competition leader, with Carrie Ketchem of Beaver Dam High School serving as associate project competition leader.
K–12 posters are due every year on April 1. Projects (written reports) for grades 7–12 are due every year on June 1. The ASA website has more information such as previous winners, entry forms, instructional webinars, and the rubrics used for judging the posters and projects.
2017 Poster Competition Winners
Grades K–3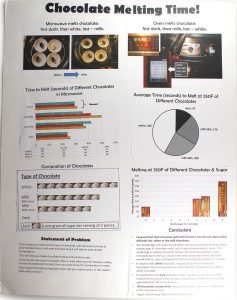 FIRST PLACE
Marguerite Burstyn
Chocolate Melting Time
Highland Elementary School
Abington, Pennsylvania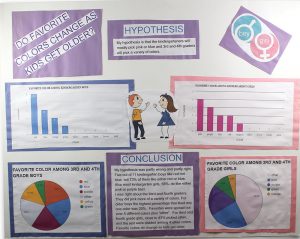 SECOND PLACE
Maya Lemery
Do Favorite Colors Change as Kids Get Older?
Odyssey Elementary School
Appleton, Wisconsin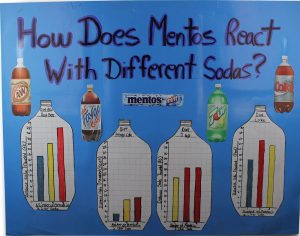 THIRD PLACE
Mr. Suba's Third -Grade Class
How Does Mentos React with Different Sodas?
Timmons Elementray School
Chagrin Falls, Ohio
Grades 4–6
FIRST PLACE
Rachel Zhu
Sleepy Stats
Odyssey Elementary School
Appleton, Wisconsin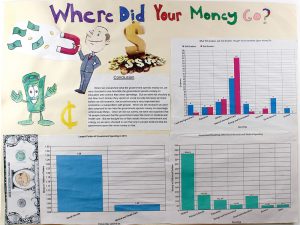 SECOND PLACE
Ashley Colberg and Ellie DeGeorge
Where Did Your Money Go?
Stepney Elementary School
Monroe, Connecticut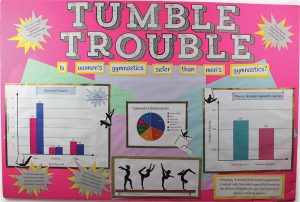 THIRD PLACE
Suebin Hur
Tumble Trouble
Hyde Park Middle School
Las Vegas, Nevada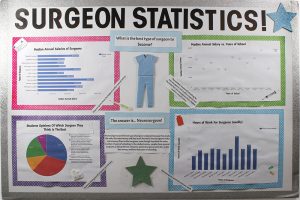 HONORABLE MENTION
Lynn Pham and Hannah Pham
Surgeon Statistics
Hyde Park Middle School
Las Vegas, Nevada
Grades 7–9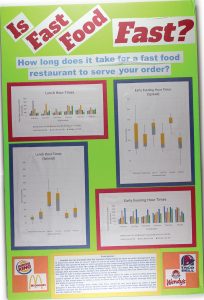 FIRST PLACE
Aryaman Bisen
Is Fast Food Fast?
Hyde Park Middle School
Las Vegas, Nevada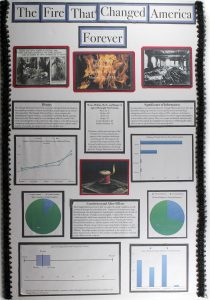 SECOND PLACE
Jocelyn Lotterhos
The Fire That Changed America Forever
Southern Highlands
Preparatory School
Las Vegas, Nevada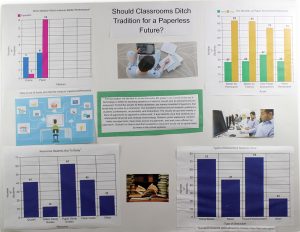 THIRD PLACE
Joe Gregory, Garrett Cheng, and Grace Xiong
Should Classrooms Ditch Tradition for a Paperless Future?
Hillcrest Middle School
Trumball, Connecticut
Grades 10–12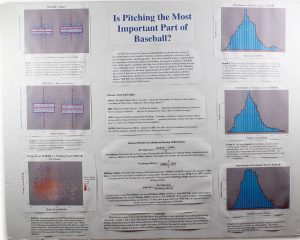 FIRST PLACE
Matthew Welch
Is Pitching the Most Important Part of Baseball?
Phillips Academy
Andover, Massachusetts
SECOND PLACE
Abby Votaw and Ingrid Cheung
Is Climate Change Real?
St. Joseph's Academy
Cleveland, Ohio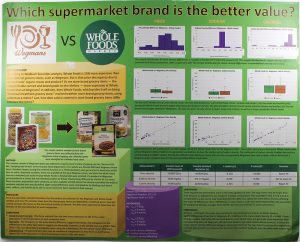 THIRD PLACE
Clare Martin
Which Supermarket Brand Is the Better Value?
Newton South High School
Newton, Massachusetts
This year, there were two national poster competition winners from Odyssey Elementary School, Rachel Zhu and Maya Lemery.
2017 Regional Poster Competition Leaders
Students outside the regional competition areas submit their posters directly to the ASA office. They are then separately judged by the Washington Statistical Society as part of the Other Region. The best posters from each region are sent to the national judging. Information about regional poster competitions and winners is available on the individual regional poster competition websites.
Connecticut Chapter Statistical Poster Competition
Valerie Nazzaro, Wesleyan University
Jennifer McGinniss, Sunovion

Kansas/Missouri Statistics Poster Contest
Ananda Jayawardhana, Pittsburg State University
Michigan Statistics Poster Competition
Dan Adrian, Grand Valley State University
Nevada K–12 Statistics Poster Competition
Tia Price, Southern Nevada Regional Professional Development Program
Ohio Statistics Poster Competition
Linda Quinn, Cleveland State University
Jerry Moreno, John Carroll University
Pennsylvania Statistics Poster Competition
Pete Skoner, Saint Francis University
Pullman, Washington Statistics Poster Competition
Dean Johnson, Washington State University
Washington Statistical Society Poster Competition (DC Metro Area)
William Cecere, Westat
ASA National Poster Competition
Leader: Rodney Jee, Discover Financial Services
Contact: Rebecca Nichols, ASA Director of Education
2017 National Project Competition Winners
Each year, the statistical project competition attracts a variety of submissions in which students from grades 7–12 conduct creative studies. The submission deadline for the project competition is June 1 to enable participation from high-school students who may have been preparing for the AP Statistics exam administered in mid-May. This deadline also makes it possible for teachers who might otherwise be busy at the AP Reading to assist with the competition judging.
The statistical project competition is especially useful because it provides students with opportunities to apply the statistical skills they acquired throughout the school year to solve real-world problems of interest to them.
Grades 10–12
FIRST
Omkar Agashe
Do Bananas Speed Fruit Ripening
The Overlake School
Bellevue, Washington
SECOND
Andrew Ardle, Star Chen, Alison Pond, and Anne-Laure Razat
Gender and Instagram Followers Among High School Students
Downingtown High School West Campus
Downingtown, Pennsylvania
THIRD
Palmer Manes
Bucking the Trend? Distance from Starbucks as Measure of Population Density
Rancho Mirage High School
Cathedral City, California
2017 National Project Competition Judges
Nathan Kidwell (Oaxaca Christian School in Oaxaca, Mexico) and Carrie Ketchem (Beaver Dam High School) directed the project competition. Following are the project competition judges:
Alvarez, Javier
Ayokanmbi, Fola Michael
Ayotte, Chantal
Bahnsen, Patricia
Barriger, Kyle
Blakely, Kim
Bonner, Carole
Boone, Robert
Botzner, Elizabeth
Bush, James
Carver, Ruth
Casper, Eric
Chandrasekhar, Rameela
Covell, Ashley
Dahl, Jason
Daniel, Patricia
DeSantis, Diane
Davidson, Lew
Drake, Michael
Dunu, Emeka
Echols, Lacey
Emerson, Kathie
Faulkenberry, Tom
Fortney, Janet
Fox, Tina
Gray, Christopher
Grieves, Justin
Gurney, David
Guzman, Alexandria
Hagin, Allan Scott
Hess, Steven
Heyman, Megan
Hill, Carla
Holton, Amanda
Hoyt, Caleen
Hyjek, Monica
Johnson, Leigh
Kallwitz, Mimi
Kamburowska, Grazyna
Kidwell, Lynn
Kucera, Lee
Langdon, Jenny
Lepi, Christina
Lipp-Read, Anne
Lu, Yixia
Matamoros, Bridget
McMillian, Vicki
Mika, John (Jack)
Miller, Sally
Mills, Craig
Moore, Shywanda
Moss, Cindy
Myers, Jesse
Nataro, Leigh
Nelson, Christine
Oechsle, Joseph
Ordoyne, Katie
Overstreet, Heather
Petko, Kathy
Polito, Therese
Reece, Ruth
Roy, Julie
Sawyer, Joshua
Schell, Lisa
Schultz, Laura
Shayib, Mohammed
Shrager, Adam
Simons, Mary
Simpson, Sean
Sirois, Tim
Song, Shuguang
Sotherden, Elaine
Sterken, Sharon
Thomas, Jane
Travis, Scott
Tyson, Doug
Ward, Ben
Wasco, Sue
Wayland, Marti
Weiland, Travis
White, Janet
Wider-Lewis, Felicia
Wozniak, Christine
Young, Donna
Get Involved
For information about how you can start a regional poster competition or mentor students in your area, see the article appearing in the July 2011 issue of Amstat News. You also can download a flier about the ASA poster and project competitions and other K–12 statistics education programs and resources to share with your local schools.
For additional information or questions regarding how to get involved in the poster or project competitions, please contact Rebecca Nichols.