Practical Significance | Episode 21: Building the National Data Mine Network, with Mark Ward and Kathy Ensor
30 August 2022
273 views
No Comment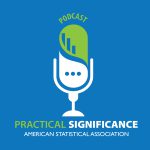 This edition of Practical Significance spotlights the National Data Mine Network, a project funded by a three-year, $1.5 million grant from the National Science Foundation to the ASA. The project enables undergraduate students at minority-serving institutions to learn data science via hands-on research or data science projects informed by industry partners or faculty mentors.
Our guests this month are Mark Daniel Ward, professor of statistics and director of the Purdue University Data Mine Network, and ASA President Kathy Ensor, Noah G. Harding professor of statistics at Rice University, who has made the National Data Mine Network an important part of her presidential initiatives. They discuss the unique aspects of the Data Mine, what's most exciting as it continues to grow, the challenges of building corporate partnerships, and the first cohort of students.
Listen in and learn about this innovative program generating so much excitement, and don't miss Ron's traditional Top 10, "The Top Ten Statistical Terms that Sound Like Medical Problems."
*For details about the National Data Mine Network, contact ASA Director of Strategic Initiatives and Outreach Donna LaLonde.