Practical Significance | Episode 30: Meet the Hosts of Stats+Stories
30 May 2023
254 views
No Comment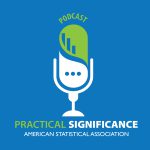 Practical Significance co-hosts Donna and Ron welcome John Bailer and Rosemary Pennington, co-hosts of Stats+Stories, a podcast about "the statistics behind the stories and the stories behind the statistics." Their show features an eclectic mix of topics, from economics to the environment to media, methods, sports, and more. John and Rosemary come from opposite backgrounds: John, who is a professor emeritus of statistics, is the "Stats" part of the equation. Rosemary, who is an associate professor of journalism at Miami University in Oxford, Ohio, is the "Stories" part.
In addition to their work at MU and on the podcast, John and Rosemary recently collaborated on a new book, Statistics Behind the Headlines, and share their experiences working together on this publication and what they learned about the other's area of expertise.
They reveal their favorite Stats+Stories episodes and the people they would love to interview if given the opportunity (living or dead). Before sharing what they are reading, listening to, watching, and/or what's on their "to be read" list, they preview future episodes of Stats+Stories.
John and Rosemary bring incredible energy and humor to our show, so listen in and enjoy. And don't miss Ron's Top 10, as he offers "The Top Ten Titles of Failed Grant Proposals."