2015 Poster, Project Competitions Showcase Winners
1 August 2015
9,246 views
One Comment
The American Statistical Association is pleased to announce the winners of the 2015 Poster Competition and Project Competition. First-place winners received $300, a plaque, a plaque for their school, and grade-appropriate graphing calculators for the students and advisers provided by Texas Instruments. Second-place winners received $200 and a plaque; third-place winners received $100 and a plaque; and honorable mentions received plaques.
2015 National Project Competition Judges
Javier Alvarez, Pomfret School
Susan Archer, University of North Florida and Embry-Riddle Aeronautical University
Kyle Barriger, Castilleja School
Elizabeth Botzner, Leap Learning Academy
James Bush, Waynesburg University
Ruth Carver, Germantown Academy
Lew Davidson, Mallard Creek High School
Dawn Denney, NC Virtual Public Schools
Diane DeSantis, Algonquin Regional High School
Lacey Echols, Butler University
Janet Fortney, Forsyth Country Day
Hunter Glanz, Cal Poly
Justin Grieves, Charleston Southern University
David Gurney, Southeastern Louisiana University
Scott Hagin, Edwardsville High School
Marylesa Howard, National Security Technologies
Lee Ingamells, Chaminade University
Mimi Kallwitz, Prairie Ridge High School
Grazyna Kamburowska, State University of New York College at Oneonta
Ghada Khoury, Lansing Community College
Lynn Kidwell, Hempstead High School
Betsy Kumm, inVentiv Health Clinical
Brianna Kurtz, Dayton State College
Robin Levine-Wissing, Glenbrook North High School
John Mahoney, Benjamin Banneker High School
Cheryl McKeeman, Langara College
Vicki McMillian, Ocean City College
Sally Miller, Alexandria City Public Schools (Retired); NMSI
Leona Mirza, North Park University
Leigh Nataro, Moravian Academy
David Nezelek, Pine View School
Joe Oechsle, Malvern Prep/Villanova University
Kathy Petko, Palatine High School
Ruth Reece, William Peace University
Julie Roy, University of Louisiana at Lafayette
Mary Simons, Smyrna High School
Tim Sirois, Highland Park High School
Chris Stapel, The Blake School
Sharon Sterken, EA Laney High School
Jane Thomas, Covenant School
Doug Tyson, Central York High School
Marti Wayland, Baylor School
Felicia Wider, Edward Waters College
David Wilcox, Christ Church Episcopal School
Donna Young, Kent Island High School
Wenona Young, Joseph Wheeler High School
The poster and project competitions are directed by the ASA/NCTM Joint Committee on Curriculum in Statistics and Probability. The 2015 poster competition leader was Rodney Jee (Discover Financial Services). Daren Starnes (The Lawrenceville School) served as the head project competition leader, with Nathan Kidwell (Dubuque Senior High School) serving as associate project competition leader.
K–12 posters are due every year on April 1. Projects (written reports) for grades 7–12 are due every year on June 1. Visit the competitions web page for information—including previous winners, entry forms, instructional webinars, and the rubrics used for judging the posters and projects.
2015 National Project Competition Winners
Each year, the statistical project competition attracts a variety of submissions in which students from grades 7–12 conduct creative studies. The submission deadline for the project competition is June 1 to enable participation from high-school students who may have been preparing for the AP Statistics exam administered mid-May. This deadline also makes it possible for teachers who might otherwise be busy at the AP Reading to assist with the competition judging. The statistical project competition was especially useful for these students because it provided them with opportunities to apply all the statistical skills they had acquired throughout the school year to solve real-world problems of interest to them.
Grades 10–12
FIRST PLACE
Sarah Young and Seyvonne Ip
Preserving Bananas: Cling Wrap or Foil?
Dougherty Valley High School
San Ramon, California
SECOND PLACE
Danielle Jacobsen and Jessica Zubizarreta
The Effects of Subliminal Advertising on Subject Behavior
Castilleja School
Palo Alto, California
THIRD PLACE
Capril Mirarchi, Maxwell Howald, and Lillian Nicholas
Reading Comprehension Levels in Hard Copy vs. iPad Format
Christopher Dock Mennonite High School
North Wales, Pennsylvania
HONORABLE MENTION
Nelson Ngouenet and Michelle Lin
Effects of Note-Taking Method on Short-Term Memorization
The Overlake School
Redmond, Washington
Grades 7–9
FIRST PLACE
James Standish
Video Games and Anger Issues
Blake Middle School
Hopkins, Minnesota
SECOND PLACE
Kaitlyn Saldanha
The Relationship Between Sleep Schedule and Eating Habits in 7th-Graders
Blake Middle School
Hopkins, Minnesota
THIRD PLACE
Caroline Cameron
Does Playing a Team Sport Affect Organization?
Blake Middle School
Hopkins, Minnesota
HONORABLE MENTION
Sindhu Ragunathan
Sleep. Are You Getting Enough?
Rocky Run Middle School
Fairfax, Virginia
2015 National Poster Competition Winners
Grades K–3
FIRST PLACE
Jacob Harleton
How Has Baseball Changed?
Pine Ridge Elementary
Grand Rapids, Michigan
SECOND PLACE
Uma Riggins
Bubbles
The Key School
Bowie, Maryland
THIRD PLACE
Corey Tobin
Paper Towels!
Overlook Elementary
Abington, Pennsylvania
Grades 4–6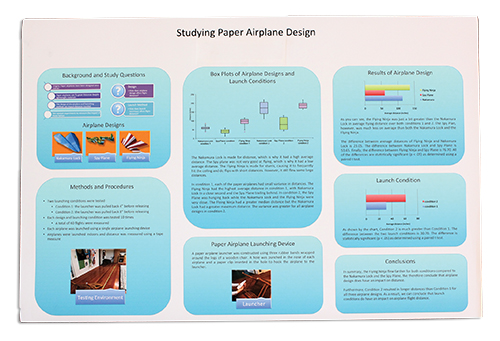 FIRST PLACE
Ryan Holder
Best Paper Airplane Design
Jefferson Elementary
Pullman, Washington
SECOND PLACE
Chandrima Chatterjee
Accuracy of Temperature Forecast During a Cold Winter
Rachel Carson Elementary School
Gaithersberg, Maryland
THIRD PLACE
Joanna Yi
Consuming Meat
Hyde Park Middle School
Las Vegas, Nevada
HONORABLE MENTION
Olivia Batrus
Will It Bounce?
St. Rose of Lima Elementary
Altoona, Pennsylvania
HONORABLE MENTION
Giovanni Corabi
Stop at the Sign or Get a Fine
Rydal Elementary
Abington, Pennsylvania
Grades 7–9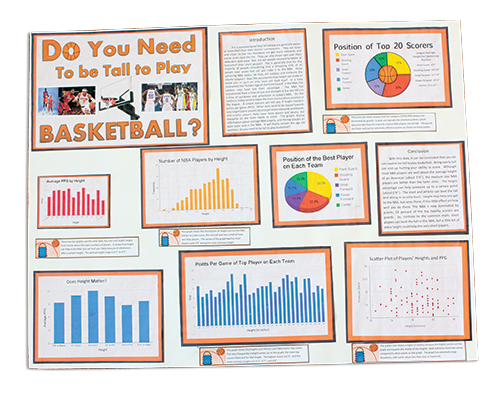 FIRST PLACE
Gilbert Spencer
Do You Need to Be Tall for Basketball?
Half Hollow Hills High School West
Dix Hills, New York
SECOND PLACE
Zachary James
Which Filters More Oil: Clams vs. Mussels
Edgemont Jr./Sr. High School
Scarsdale, New York
THIRD PLACE
Katrina Bliss
Vinegar Variance
Mount Union Area Senior High
Mount Union, Pennsylvania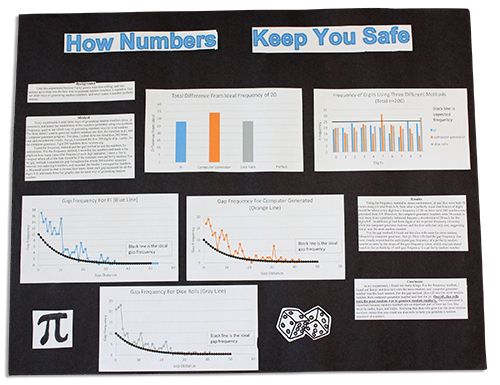 HONORABLE MENTION
Cordell Cheng
How Numbers Keep You Safe
Abington Junior High
Rydal, Pennsylvania
Grades 10–12
FIRST PLACE
Victor Chen and Kera Yang
Professor Salary Disparities
Saline High School
Saline, Michigan
SECOND PLACE
Kate Salmon and Ben Croy
Psychoactive Therapy for Mathematical Quandaries
Joplin High School
Joplin, Missouri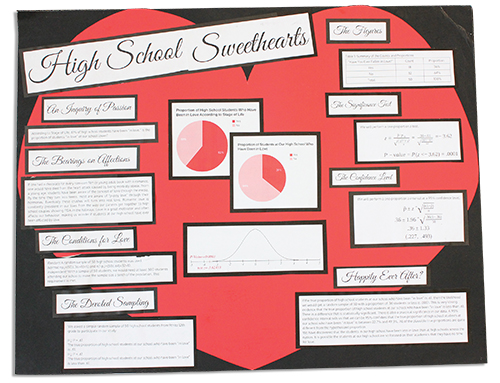 THIRD PLACE
Katherine Kim and Catherine Badding
High School Sweethearts
State College Area High School
State College, Pennsylvania
HONORABLE MENTION
Caroline Statler and Saniya Ablatt
Can High-School Students Differentiate Between Name Brand and Off-Brand Food and Drink?
Joplin High School
Joplin, Missouri
Get Involved
For information about how you can start a regional poster competition or mentor students in your area, see the article appearing in the July 2011 issue of Amstat News. You can download a flyer about the ASA poster and project competitions and other K–12 statistics education programs and resources to share with your local schools here. For additional information or questions regarding how to get involved in the poster or project competitions, please contact Rebecca Nichols at rebecca@amstat.org.