JSM 2018 Invited Session Proposals Sought
1 July 2017
1,797 views
No Comment
Christian Léger, JSM 2018 Program Chair
As many of you are preparing to head to Baltimore for the 2017 Joint Statistical Meetings (JSM), it is already time to plan for JSM 2018, which will take place in Vancouver, British Columbia, Canada, from July 28 to August 2.
If you attended JSM 2010, you know that—given the exceptional scenery—it will be a challenge to keep participants inside the Vancouver Convention Centre, so JSM Program Committee members are counting on you to help them prepare the very best program.
Lisa LaVange, 2018 ASA president, has selected "#LeadWithStatistics" as the theme for JSM 2018. It promotes the idea that using statistics in the right way will improve any leaders' chances of success! Its hashtag format is a nod to the social media age we live in and to the new generation of statisticians and data scientists who will become the future leaders of our field.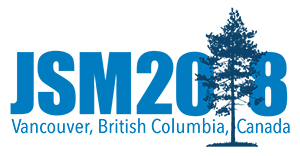 At this time, the program committee is soliciting proposals for invited sessions to showcase some of the most innovative, impactful, and cutting-edge work in applied and theoretical statistics. The sessions can be oral presentations or panel discussions. Invited paper sessions consist of 2–6 speakers and discussants reporting new discoveries or advances in a common topic; invited panels include 3–6 panelists providing commentary, discussion, and engaging debate on a particular topic of contemporary interest.
The ideal session involves fresh, important work that many JSM attendees will find interesting. Many of the most stimulating sessions present diverse viewpoints and strategies on a common topic or problem, with speakers coming from different institutions or practices.
Many of you have probably never tried to organize an invited session, but why not try it this year? To organize a session, you should first set a theme of broad interest and identify and contact potential participants. Once these are arranged, you should write a proposal consisting of the title, a brief abstract/rationale, a list of participants, and tentative titles for the talks (titles can be changed later).
In planning a meeting attracting more than 6,000 statisticians, the program committee has to abide by a number of rules. When planning an invited session, please note that JSM has strict guidelines for participation. Talk to potential speakers to ensure they are not committing to multiple invited proposals.
There will be 181 invited sessions at JSM 2018. Most are allocated to the partner societies and ASA sections, which will select among the proposals submitted to each society or section. Note that most have a small number of invited sessions (1–4). After they make their selections, each ASA section will select up to two proposals to enter into a competition for the remaining spots on the invited program. It is therefore important to make your session proposal competitive with interesting topics and strong speakers, but also by providing a good description of the topic that committee members from other sections or organizations will appreciate in case the proposal goes into the competition.
Session proposals must be submitted via the JSM online system, indicating type of session and proposed sponsor (partner society, ASA section, etc.). The online system will open July 18, and the deadline is September 6.
As indicated earlier, you will understand that for a meeting of this size, it is essential to follow strict deadlines and procedures. The invited session proposal form allows the organizer to select up to three sponsors in ranked order. This is to ensure a worthy proposal is considered by other sponsors if it is not selected by its designated primary sponsor.
Before submitting your proposal, you are encouraged to contact members of the program committee representing your chosen sponsors to discuss your proposal and see if they are willing to sponsor it given that most of the invited sessions will be selected by them. If you are a member of an ASA section or another sponsoring society, going through the corresponding representative is often a good way to proceed. But remember that only sessions submitted via the online system will be considered, so it is not enough to send your proposal by email to a member of the program committee. Decisions about the invited program will be made by the end of September. It is helpful to contact program committee members well ahead of the September 6 deadline.
An invited poster session consisting of up to 30 electronic posters will take place during the Opening Mixer. Presenters in this session have access to a monitor, rather than a traditional poster board, that provides a unique opportunity to interact one-on-one with other researchers. Ideas for invited posters should be sent to Paul McNicholas of McMaster University, who is associate chair for invited and contributed posters, at paulmc@mcmaster.ca or jsm2018posterchair@gmail.com.
I would also appreciate receiving good suggestions for two other important components of the JSM program: memorial sessions and introductory overview lectures (IOLs). A limited number of memorial sessions are planned at each JSM. Proposals can be submitted through the online invited session system (choose memorial session as sponsor). By doing so by the September 6 deadline, you can select other potential sponsors in case they would want to choose that session. In any case, I invite you to contact me if you are planning to submit a memorial session. Unless the session is selected by an organization or ASA section in September, decisions about memorial sessions will be made in the fall.
IOLs are high-quality introductions to timely and important statistical topics of broad interest to JSM attendees and usually attract large audiences. I invite you to contact me with suggestions for topics or speakers for these sessions. Note that IOL speakers can also present an invited or contributed paper, panel, or poster. You can reach me at leger@dms.umontreal.ca.
Thanks to the quality of the proposals sent by people like you, JSM offers a diverse, high-quality program that advances the knowledge of each participant. If you want to #LeadWithStatistics, Vancouver will be the place to be July 28 to August 2, 2018.
On behalf of all program committee members, I thank you in advance for helping us make JSM 2018 an event as fantastic as its location!