Therri Usher
1 February 2022
939 views
One Comment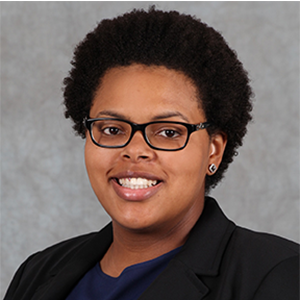 Affiliation: Mathematical Statistician, Division of Biometrics IV, Office of Biostatistics, Office of Translational Sciences, Center for Drug Evaluation and Research, US Food and Drug Administration
Education: BS, Mathematical Sciences, The University of Texas at Dallas
PhD, Biostatistics, Johns Hopkins Bloomberg School of Public Health
Therri Usher was born and raised in Corpus Christi, Texas. She always enjoyed mathematics, even competing in University Interscholastic League mathematics competitions during high school. Despite this, others encouraged her to pursue a career as a medical doctor, thinking it would provide more opportunities. So, Usher entered The University of Texas at Dallas (UTD) as a pre-medicine Clark Scholar.
The Clark Program provided Usher the opportunity to work in a biology lab researching sickle cell disease. It was her experiences working there and her subsequent freshman year that convinced her to consider a more quantitative major: mathematics. Once she changed her major, she had the opportunity to work with a professor to conduct data analysis for the same sickle cell lab she worked in. This experience introduced her to biostatistics and led to her changing her specialization to statistics.
After completing her BS in mathematical sciences at UTD, Usher earned a PhD in biostatistics from Johns Hopkins Bloomberg School of Public Health. She benefitted from the knowledge and guidance from her thesis adviser, Charles Rohde, and other faculty within the department and school during her time in the program. She also gained mentors through participating in the Eastern North American Region's (ENAR) Fostering Diversity in Biostatistics Workshop and the ASA's Diversity Mentoring Program (DMP).
After completing her PhD, Usher joined the US Food and Drug Administration (FDA) as a statistician. She applies statistical theories and methods to be used in the regulation of drug products to treat viral infections and rare diseases. She also collaborates in working groups and research teams to foster drug development, both internal and external to FDA. Her work has contributed to regulatory actions on new drug and biologic licensing applications, as well as documents used within and outside of FDA.
Usher is also an active member of the International Biometric Society and American Statistical Association. She has served on the regional advisory board of ENAR and currently serves on ENAR's regional committee. She is also a vice chair of the ASA Committee on Minorities in Statistics (CoMiS) and cochair of StatFest, a CoMiS initiative to encourage undergraduate students from underrepresented Black, Indigenous, and People of Color communities to consider graduate studies and careers in statistics and data science.
Usher is proud of serving as a mentor in the ASA's DMP—coming full circle from a mentee seeking mentorship and knowledge of career opportunities to a mentor engaged in her career.
She lives in Maryland with her husband, Travis; her twin daughters, Taylin and Tiana; and her mother, Ann.