My ASA Story: Mike Jadoo, Bureau of Labor Statistics Economist
2 January 2023
450 views
One Comment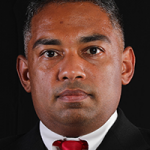 I work at the Bureau of Labor Statistics in the Office of Productivity and Technology on productivity measures (Total Factor Productivity). I first learned about the American Statistical Association from a coworker who was going to the Joint Statistical Meetings. I decided to join after seeing all the resources the ASA had to advance my education and help my career. The ASA has many educational resources available on anything related to statistics. There are also resources for those needing help with their careers, including job announcements. Something I found amazing were the many types of community resources from ASA sections.
One can meet a lot of people working in different fields that use statistics and data science by joining any one of the sections or communities. These communities regularly post interesting information regarding workshops, lectures, and even job opportunities.
I first got involved in the ASA by competing in a Government Statistics Section data competition in which I used Bureau of Transportation Statistics data to come up with an analysis of traffic data. I presented at JSM and gained a lot of experience, which I was able to use at my job.
I also presented at the Conference on Statistical Practice about an R function I created that replicated a statistical formula I use at work. The presentation went well, and I met lots of people within my agency and across different sectors who were doing similar work.
A rewarding experience I had from being part of the ASA was attending a statistics education workshop about a better way to teach students the basics of statistics using storytelling. After attending the workshop, I used that material in one of the classes I taught at Montgomery College, where I was an adjunct professor teaching data analysis fundamentals. The impact it had on my students was amazing, and it made teaching basic statistics easier for me. Moreover, it made statistics fun for the students, enhancing their overall experience.