Practical Significance | Episode 28: What's in a Meeting (with Apologies to Shakespeare)?
30 March 2023
320 views
No Comment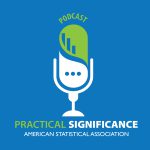 Shakespeare asks, "What's in a name?" in the play Romeo and Juliet, the purpose of which is to focus our attention on what's important. This month, Practical Significance explores what's important for an ASA meeting or conference to be successful as co-hosts Donna and Ron welcome Julia Sharp, chair of the ASA Meetings Task Force, to the show.
The ASA Board charged the task force with developing recommendations for ensuring those attending the ASA's smaller meetings such as the Conference on Statistical Practice, Women in Statistics & Data Science, Symposium on Data Science and Statistics, and International Conference on Health Policy Statistics have an experience aligned with the ASA Code of Conduct. Members of the task force were also asked to propose mechanisms to inform the ASA community about what steps are being taken to ensure the meeting environments are safe, respectful, and accessible.
The task force sought input through a questionnaire asking ASA members to rank the importance of aspects such as travel and lodging expenses, geographic location, safety, and accessibility. Sharp shares initial findings, talks about how the task force will move forward—and she reveals her favorite ASA meeting.
Also, don't miss Ron's traditional Top 10 as he offers "The Top Ten April Fools Jokes for Practical Significance Podcasters."
Love ASA meetings? Listen in!
Additional members of the ASA Meetings Task Force: John Bailer, Rebecca Hubbard, Willis Jensen, and Jiashen You