Significance Considers Francis Galton's Legacy
1 July 2019
134 views
No Comment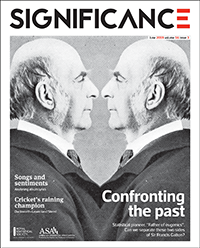 The June issue of Significance is out in digital format and focuses on the legacy of Francis Galton, statistical pioneer and eugenicist. How should we best commemorate Galton's statistical achievements while not downplaying or overlooking his disturbing views on race?
Also in this issue, as the Cricket World Cup begins, we delve into the history and development of a game-changing statistical idea: the Duckworth-Lewis method.
Plus:
Simon Raper explores the philosophical ideas of Karl Pearson and his belief that parameters and distributions, not things, are the proper object of scientific study.
Gian Carlo Di‐Luvi uses text mining to determine the net sentiment of Grammy‐winning albums of the year.
Suzanne Thornton, Brittany Green, and Emma Benn offer advice for greater LGBT+ inclusion in statistics and data science.
R. Allan Reese has a "hole" lot of questions about one of the most dramatic scientific images of our age.
Access the digital version of Significance through the ASA or RSS members' portal or download and read the magazine on the go with our iOS and Android apps. If you are a print subscriber, your June issue will be arriving soon.