My ASA Story: Nicole Close, Biostatistician
1 December 2022
763 views
No Comment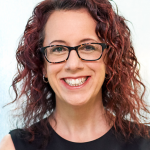 After completing my undergraduate degree in biology in 1992, I headed straight into a master's degree in epidemiology and biostatistics, which I finished in 1994. I needed to prepare for the world ahead of me, and while in the midst of my master's thesis, I started reading about the American Statistical Association's activities. The ASA seemed to have great information, a listing of potential jobs (which was vital at the time), and a number of educational activities. It was just the organization for me, given that I would be graduating soon and entering the unknown world of biostatistics.
I joined the ASA on November 1, 1993, and started my new job in 1994 as the only biostatistician at a small health-focused firm in Washington, DC. I felt alone yet needed by my colleagues, and I was still unsure of my unseasoned skills that hadn't yet been applied to real-world circumstances. Turning to the ASA as a support system was something I did but didn't appreciate until later in my career.
My involvement with the ASA grew through these early years, and the ASA was a foundation of support and growth for me. I found the more I put into the organization, the more I gained from it. I started off with educational activities and meetings. I became more involved as a committee chair in 2005 and 2008, a medical science and statistics presenter in 2008, and a successful statistical consulting presenter in 2011.
Both attendance at and active participation in ASA meetings, as well as educational activities, were key to my growth. The time I spent involved in these endeavors energized me and created new excitement within me for what I do. I met wonderful colleagues, who are still colleagues today, and I know if I have a question or need (like having someone serve on a data and safety monitoring board I am organizing), I can reach out to this network of professionals and friends.
Access to professionals, activities, and networking through the ASA allowed me to grow and prosper. Today, I own my own biostatistics consulting group and am teaching the next generation of biostatisticians.
Twenty-nine years after joining the ASA, I continue to look to the association for news, educational activities, and employment updates and opportunities. I may not be as active as I once was, but becoming a lifetime member allows me to give back. Today, I am the one mentoring and sharing knowledge and career advice with junior biostatisticians, helping them to grow.
My experience with the ASA has been a normal distribution: I started out in the left tail, became heavily involved in the ASA for 68.2 percent of my time, and am now heading into the right tail, where the ASA is still with me and supporting my needs.