Practical Significance | Episode 26: What's Love Got to Do with It?
30 January 2023
940 views
No Comment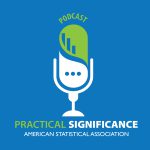 With a nod to Valentine's Day, the February edition of Practical Significance embraces the theme, "What's Love Got to Do with It?" and features three couples who truly appreciate the perks of having a statistician as a partner. Co-hosts Donna and Ron welcome Emily and Eric Griffith, Jeri and Ed Mulrow, and Jack Miller and Melinda Baham to the show.
The three couples share a bit about their day jobs and how they met and offer strategies for maintaining that elusive goal of work-life balance. Also, don't miss Ron's traditional Top 10, as he offers the "Top Ten Things You Can Say About Your Data but NOT About Your Partner." Tune in to this unique and upbeat episode—you'll be glad you did!