Practical Significance| Episode 29—A 360° View of ASA Journals and Publications with Eric Sampson
28 April 2023
375 views
2 Comments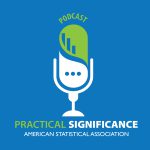 Did you know the ASA publishes or co-publishes 16 journals focusing on statistics in business and economics, biopharmaceutical research, agriculture, biology, the environment, sports, surveys, and so much more? Eric Sampson oversees production (a Herculean effort) and has served as the ASA journals manager since 2008.
Practical Significance co-hosts Donna and Ron talk with Eric in depth about his role and what changes he anticipates in the publishing world. Eric also gives advice for authors seeking the best outlet for their work.
We also discover Eric is a competitive equestrian, and he shares stories about his horse, Pancho Villa, and the events they have participated in over the years.
Listen in and learn more about ASA journals and publications, a valuable members-only benefit, and don't miss Ron's traditional top 10, as he offers up the "Top Ten (Squared) Things You Can Do with Data."
Watch Eric and Pancho Villa's cross-country run at the Stable View Horse Trials Oktoberfest 2020 in South Carolina, where they notched their first big win. Courtesy of VideobyPatrick.
Check out ASA journals and publications.
Eric and Pancho Villa at the 2021 American Eventing Championships. Photo courtesy of Shannon Brinkman Photography.