2018 Poster and Project Competition Winners
1 August 2018
3,953 views
2 Comments
The American Statistical Association is pleased to announce the winners of the 2018 Poster Competition (newly renamed the ASA Data Visualization Poster Competition) and Project Competition.
First-place winners received $300, a plaque, a plaque for their school, and grade-appropriate graphing calculators for the students and advisers provided by Texas Instruments. Second-place winners received $200 and a plaque; third-place winners received $100 and a plaque; and honorable mentions received plaques.
The poster and project competitions are directed by the ASA/NCTM Joint Committee on Curriculum in Statistics and Probability. The 2018 ASA Data Visualization Poster Competition leader was Rodney Jee of Discover Financial Services. Nathan Kidwell of Oaxaca Christian School in Oaxaca, Mexico, served as the head project competition leader.
As well as a name change, 2018 also brought a new rubric for the poster competition. K–12 posters are due every year on April 1. Projects (written reports) for grades 7–12 are due every year on June 1. Visit the competitions web page for information—including previous winners, entry forms, instructional webinars, and the rubrics used for judging the posters and projects.
Poster Competition Winners
Grades K–3

FIRST PLACE
Alex Ren, Julia Ding, and Cora VanDongen
"Which Hand Rules?"
Conners Emerson School
Bar Harbor, Maine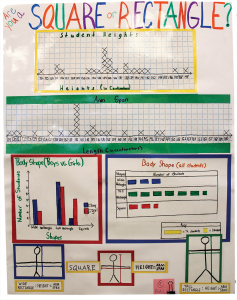 SECOND PLACE
Third-Grade Class
"Are You a Square or a Rectangle?"
Timmons Elementary School
Chagrin Falls, Ohio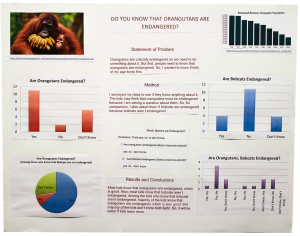 THIRD PLACE
Arushi Choudhary
"Do You Know That Orangutans Are Endangered?"
Skaggs Elementary
Plano, Texas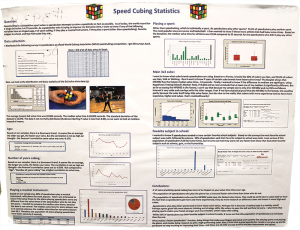 HONORABLE MENTION
Salar Nasimov
"Speed Cubing Statistics"
Fairhill Elementary
Fairfax, Virginia
Grades 4–6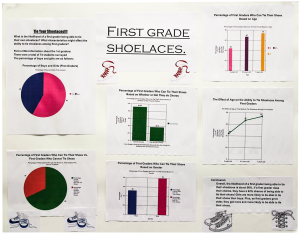 FIRST PLACE
Noah Hellerslia
"First-Grade Shoelaces"
Highland Elementary School
Abington, Pennsylvania

SECOND PLACE
Owen Hall
"Screen Time"
Odyssey Elementary School
Appleton, Wisconsin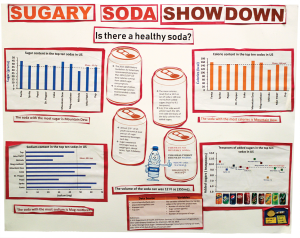 THIRD PLACE
Vaishnavi Bhattaram
"Sugary Soda Showdown"
Jeffers Hill Elementary
Columbia, Maryland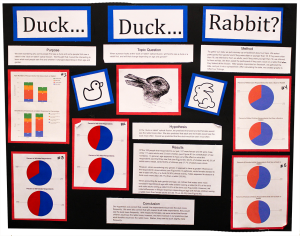 HONORABLE MENTION
Oscar Hoffman and Peter Cleary
"Duck … Duck … Rabbit?"
Rydal Elementary School
Abington, Pennsylvania
Grades 7–9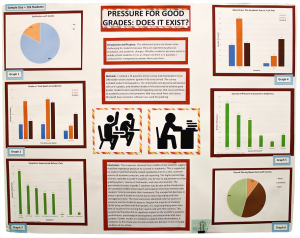 FIRST PLACE
Ella Wong
"Pressure for Good Grades: Does It Exist?"
Hawken School
Lyndhurst, Ohio

SECOND PLACE
Esha Pandya and Margaux Castillo
"Do High-School Students Perform Acts of Kindness?"
Clarkstown South High School
West Nyack, New York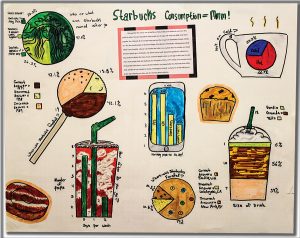 THIRD PLACE
Hannah Wawersik, Anne Marie Singley, Ainsley Lord, and Emma Doherty
"Starbucks Consumption = Mmm!"
Williamsburg Montessori School
Williamsburg, Virginia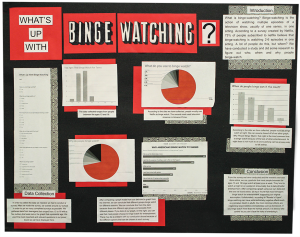 HONORABLE MENTION
Jaclyn Golaszewski, Mickala Winne, and Samantha Dulz
"What's Up With Binge Watching?"
Macomb Academy of Arts and Sciences
Armada, Michigan
Grades 10–12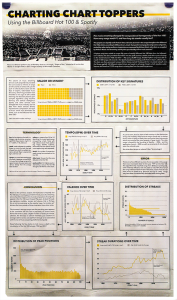 FIRST PLACE
Rudd Fawcett
"Charting Chart Toppers"
Phillips Academy
Andover, Massachusetts

SECOND PLACE
Dorris Dagama
"Is This Year's Flu Season Deadlier Than Last Year's?"
Forest Hills Central High School
Grand Rapids, Michigan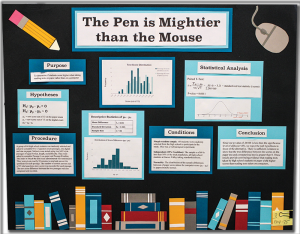 THIRD PLACE
Dana Caldwell, Ashley Pyon, Sarah Puts, and Lucy Townend
"The Pen Is Mightier Than the Mouse"
Garnet Valley High School
Glen Mills, Pennsylvania

HONORABLE MENTION
Emma Anziano
"The Cost of Milk Production"
Haddam Killingworth High School
Higganum, Connecticut
2018 Regional Poster Competition Leaders
Connecticut Chapter Statistical Poster Competition
Valerie Nazzaro, Wesleyan University
Jennifer McGinniss, Sunovion
Kansas/Western Missouri Statistics Poster Contest
Ananda Jayawardhana, Pittsburg State University
Michigan Statistics Poster Competition
Dan Adrian, Grand Valley State University
Nevada K–12 Statistics Poster Competition
Tia Price, Southern Nevada Regional Professional Development Program
Ohio Statistics Poster Competition
Jerry Moreno, John Carroll University
Pennsylvania Statistics Poster Competition
Pete Skoner, Saint Francis University
Pullman, Washington Statistics Poster Competition
Dean Johnson, Washington State University
Washington Statistical Society Poster Competition (DC Metro Area)
Elizabeth Petraglia, Westat
ASA National Poster Competition
Leader: Rodney Jee, Discover Financial Services
Contact: Rebecca Nichols, ASA Director of Education
Students outside the regional competition areas submit their posters directly to the ASA office, which are then separately judged by the Washington Statistical Society as part of the Other Region. The best posters from each region are sent to the national judging. Information about regional poster competitions and winners is available on the individual regional poster competition websites.
2018 National Project Competition Winners
Each year, the statistical project competition attracts a variety of submissions in which students from different grades, 7-12, conduct creative studies. The submission deadline for the project competition is June 1 to enable participation from high-school students who may have been preparing for the AP Statistics exam administered mid-May. This deadline makes it possible for teachers who might otherwise be busy at the AP Reading to assist with the competition judging. The statistical project competition is especially useful for these students because it provides them with opportunities to apply all the statistical skills they acquired throughout the school year to solve real-world problems of interest to them.
Grades 7–12
FIRST PLACE
Reva Agashe, Danny Lee, Annie Lu, and Ashley Zhang
The Effect of Water Type on Perception of Taste
Canyon Crest Academy
San Diego, California
SECOND PLACE
Kristin Lacy and Toby Sinclair
What Type of Interpersonal Competition Is Most Effective Among Overlake High School Students?
The Overlake School
Redmond, Washington
THIRD PLACE
Julia Dou, Annila Yan, and Arielle Morris
The Effect of Lemon Juice on the Browning Time of Bananas
Canyon Crest Academy
San Diego, California
HONORABLE MENTION
Walter Shen
Gender and Academic Dishonesty in High-School Students
Belmont High School
Belmont, Massachusetts
2018 National Project Competition Judges
Nathan Kidwell (Oaxaca Christian School in Oaxaca, Mexico) and Lynn Kidwell (Instituto Lingüístico de Verano in Oaxaca, Mexico) directed the project competition. We appreciate the work of the following project competition judges:
JUDGES
Javier Alvarez
Fola Michael Ayokanmbi
Patricia Bahnsen
Robert Boone
James Bush
Ruth Carver
Rameela Chandrasekhar
Jason Dahl
Renee Dale
Patricia Daniel
Kathie Emerson
Tina Fox
Justin Grieves
David Gurney
Alexandria Guzman
Allan Hagin
Megan Heyman
Carla Hill
Amanda Holton
Monica Hyjek
Karen Jackson
Leigh Johnson
Grazyna Kamburowska
Lynn Kidwell
Julia Kirkpatrick
Brianna Kurtz
Jenny Langdon
Michelle Larson
Christina lepi
Shinemin Lin
Yixia Lu
Bridget Matamoros
Sally Miller
Craig Mills
Cindy Moss
Jesse Myers
S. Leigh Nataro
Joseph Oechsle
Heather Overstreet
Kathy Petko
Ruth Reece
Julie Roy
Lisa Schell
Mohammed Shayib
Adam Shrager
Mary Simons
Sean Simpson
Tim Sirois
Kelly Spoon
Sharon Sterken
Wanita Thomas
Doug Tyson
Marti Wayland
Christine Wozniak
Donna Young
Shannon Zavorka
Get Involved
For information about how you can start a regional poster competition or mentor students in your area, see the article appearing in the July 2011 issue of Amstat News.
You can download a flier about the ASA poster and project competitions and other K–12 statistics education programs and resources to share with your local schools.
For additional information or questions regarding how to get involved in the poster or project competitions, contact ASA Director of Education Rebecca Nichols.